India and Food Safety
India's food safety crisis is indicative of bureaucratic failures.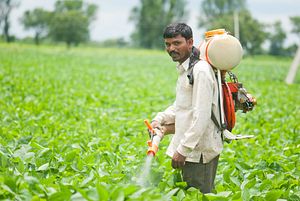 Food safety is a serious public health concern in the world's two most populous countries, China and India. In both countries, the challenges of feeding a large, geographically dispersed population, millions of whom are poor and malnourished, are immense. This has led to the proliferation of illegal, dishonest, and bootleg suppliers and slipshod government policies. The results are detrimental to public health, particularly for vulnerable communities. These crises further compromise international perceptions, indicating poor governance, weak political will, inadequate policies and lax enforcement. The path to development is not exclusively about economic growth, jobs, and infrastructure. Clear and consistent food regulatory policy, and their implementation are both imperative for growth and the inherent responsibility of responsible and progressive governments.
In recent years, tainted milk products in China have led to child deaths, resulting in consumer backlash and pledges by the government to address the safety of food sources. Other food safety episodes in China include the 2013 discovery of a crime ring marketing fake or tainted meat products, and an August investigation of distillers charged with adding the virility drug Viagra to liquor products. McDonalds and KFC have suffered losses in China due to food safety concerns, and the widely publicized gutter oil scandal lingers amid ongoing investigations. Concern about food contamination – more than a desire to improve health – is now driving increased interest in healthy diets, including organic meat.
Likewise, food scandals have plagued India for decades. The ongoing case of Nestlé's Maggi instant noodles has thrust the issue of food safety into the national political spotlight. Additives such as monosodium glutamate (MSG), which some consider a possible health concern, have been detected in Maggi noodles, although the company has consistently denied using such additives. After the Food Safety and Standards Authority of India (FSSAI) discovered unhealthy levels of lead in the noodles, the Indian government banned Maggi. Tests in six countries, including Canada, Singapore, the U.K. and the U.S., have determined the product to be safe for consumption, but Nestlé still responded by destroying more than 35000 tons of the product. In a legal petition, the company argued that India's testing system is flawed, leading to inaccurate findings. In August, an Indian court overturned the government's ban on Maggi noodles, arguing that the move was "arbitrary" and "that principles of natural justice were not followed."
Other cases illustrate India's food sourcing challenges. The rampant use of milk adulterants (agents to reduce thickness after water is added) can cause both short-term digestive problems and long-term chronic health problems. Genetically modified products are increasingly seen by some as a viable solution for feeding India's growing population, setting the stage for a public battle among corporations, scientists, public health advocates, and NGOs. Although the EU recently lifted a ban on imported Indian mangoes, a number of agricultural products remain subject to import restrictions, due ostensibly to lax regulations and enforcement.
In addition to garnering political notice, health and safety issues have become a publicly visible concern as well. For example, a recent video accusing of Hindustan Unilever of dumping toxic wastes has created a wave of attention on social media. Such episodes are indicative of a groundswell of discontent as information becomes more ubiquitous and consumers more informed – inevitabilities of a more educated and technologically savvy public.
Regrettably India's food safety standards are not at developed world standards. The U.S. Food and Drug Administration (FDA) frequently rejects products shipped from India, from food to generic medicines and cosmetics. Given this, it is difficult to see how Maggi was declared unsafe when analyses by Singapore, the United States, the U.K., and Canada indicate otherwise. This raises the prospect that India's food safety monitoring system is inconsistent and arbitrary, a product of larger governance and bureaucratic failures at the regulatory level.
Testing and analytical capacity among India's official food safety monitoring units is inadequate to manage a supply system that feeds nearly 1.3 billion people. In Delhi alone, a food testing agency has only three chemists and has had to rely on outsourced capacity of dubious reliability. Many have argued that food testing laboratories lack adequate equipment and expertise. Assuming the Maggi product sold in India is the same as that sold around the world, there appears to be a breakdown in India's food safety monitoring system. Beset with under-capacity, the country's food regulatory bodies lack credibility among the domestic public and international communities and investors. This undermines government efforts to protect citizens against legitimate health threats.
Food safety is only one of many threats to public health in India. Delhi city ranks in the bottom 100 of 476 Indian cities for sanitation and waste management. Child deaths from diarrhea are among the highest in the world due in part to poor water quality. Not a single city in India provides clean water that can be consumed from the tap. To connect the issue with larger developmental concerns, India needs FDI to maintain growth. Prime Minister Narendra Modi aims to improve India's ranking in the WEF's Global Competitiveness Index, but consistent bureaucratic bungling and foot-dragging such as those related to food safety are compromising these efforts by signaling to investors that the country's regulatory culture is haphazard, arbitrary, whimsical, and ineffective.
The solution is more effective appropriation of resources to regulatory units, institutional strengthening and capacity building, tighter strategic and operational coordination among agencies, and the maintenance of a balance-of-powers system in which one government branch (in the Nestlé case, the judiciary) calls out other government bodies for incompetence. Restrictions and sanctions should be applied in areas needing urgent policy attention, but targeting high-profile products in an attempt to signal regulatory activity is counterproductive. Regardless of whether the Maggi case was a legitimate health threat, it is clear from this lamentable episode that India's food safety and public health regulatory regimes are in dire need of a robust overhaul, sooner the better.
Asit K. Biswas is Distinguished Visiting Professor at the Lee Kuan Yew School of Public Policy, National University of Singapore. Kris Hartley is a doctoral candidate at the Lee Kuan Yew School of Public Policy, National University of Singapore.