India Gets Its First New Artillery Guns Since the 1980s
India's new artillery gun is indigenous and stands to considerably improve the Indian Army's artillery capabilities.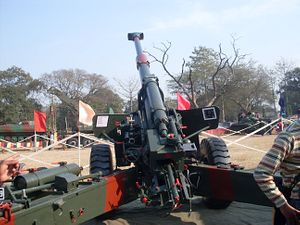 The Indian Army is set to induct an indigenously development 155 mm towed howitzer. The artillery gun, dubbed the Dhanush, will be the Indian Army's first new 155 mm howitzer since a procurement scandal in the late 1980s in which Swedish firm Bofors (later acquired by Britain's BAE Systems), designer and manufacturer of the Haubits FH77 howitzer was found to have paid illegal kickbacks in exchange for the contract. The Dhanush was developed by India's Defense Research and Development Organization (DRDO) under the project name Advanced Towed Artillery Gun System (ATAGS). The project was initiated under the DRDO in 2010.
As my colleague Franz-Stefan Gady reported earlier this year, New Delhi's announcement of the Dhanush's induction is no surprise. The system had been undergoing tests for some time. In April, the Indian government released a statement noting that the gun had "met all technical parameters during the winter and summer trials." At the time, the announcement that the Dhanush had passed all trials was, however, somewhat surprising given that reports as recently as summer of 2014 and winter of 2013 suggested major structural problems with barrel bursts in the prototypes. India's Ordnance Factory Board reportedly had to modify the metallurgical process used in the manufacturing of the gun's barrel.
The Dhanush's specifications represents a considerable improvement over the Haubits FH77, a considerably older system. The Dhanush features a larger 45 mm caliber, compared with the 39 mm caliber of the Bofors artillery gun. Its range is significantly greater, at 38 km compared to the FH77's 27 km range. Each Dhanush unit will require a crew of six to eight artillerymen to operate and is capable of firing eight rounds per minute. According to a report citing Indian Army officials, the aggregate performance improvement of the Dhanush over the FH77 is around "20-25 percent." The Dhanush outperforms the older Swedish gun on a range of measures, including "range, accuracy, consistency, low and high angle of fire and shoot-and-scoot ability."
India acquired 410 FH77 howitzers from Bofors between 1987 and 1991, and is set to acquire a total of 414 Dhanush artillery guns, with 114 already on order. The guns will be manufactured in the Indian state of Madhya Pradesh, at the Jabalpur Gun Carriage Factory.
India's FH77 artillery guns gave the Indian Army an important advantage in the 1999 Kargil War against Pakistan. In fact, the guns proved so important to the Indian effort against Pakistan in the inhospitable and rugged Kashmiri terrain that New Delhi removed Bofors from its blacklist in 1999 to allow the company to provide spare parts and maintenance services to the FH77s.