Is This Man Responsible for China's Stock Market Crash?
A journalist detained by Chinese authorities is being held responsible for the "chaos" in China's stock market.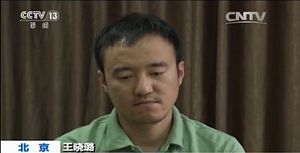 If Chinese authorities are to be believed, we finally know the cause of the country's stock market woes: a single reporter. In a video segment aired by China's state television broadcaster, journalist Wang Xiaolu confessed to fabricating a "sensationalized" story about the stock market and claimed responsibility for having "caused panic and disorder" among China's investors.
At issue is a story Wang wrote for Caijing on July 20, in which he reported that China Securities Regulatory Commission was looking to end interventions designed to prop up share prices. CSRC denied the report, which was removed from Caijing's website last week. CSRC blamed Wang's piece for a massive drop in the stock market in late July, which sparked market woes that continue today.
Caijing, a financial and business newspaper in China, often pushes the envelope of state-sanctioned media coverage. It has been particularly active in publishing investigations into the finances and business connections of officials suspected of corruption.
Wang was arrested on August 25 for "fabricating and spreading false information about securities and futures trading." A Xinhua report said that Wang had confessed to writing a false report on China's stock market. According to Xinhua, Wang admitted that his story "caused panics and disorder at stock market, seriously undermined the market confidence, and inflicted huge losses on the country and investors [sic]."
On Monday, CCTV aired a video confession from Wang, in which he said he was "deeply sorry" for his actions. "At such a sensitive time, I should not have published a report that negatively affected the market," Wang said, saying he had "caused great losses to the country and to investors" all for the sake of "sensationalism."
Reporters Without Borders condemned Wang's arrest in a statement issued on August 28. "Suggesting that a business journalist was responsible for the spectacular fall in share prices is a denial of reality," the international non-profit's secretary general Christophe Deloire said in the statement. "Blaming the stock market crisis on a lone reporter is beyond absurd."
Chinese authorities have warned media outlets not to speculate on (or devote too much coverage to) the stock market troubles. The high-profile scapegoating of Wang is likely designed to send a stern message to other journalists thinking about following in his footsteps. And journalists aren't the only ones being encouraged to keep quiet: China's Ministry of Public Security also said that it had punished 197 people for spreading online rumors about the stock market crash, the deadly explosions in Tianjin, and China's upcoming military parade.
Meanwhile, Xinhua also reported that a CSRC official, Liu Shufan, is under investigation for insider trading and accepting bribes. Four senior executives at Citic Securities, China's largest brokerage firm, are also under investigation for insider trading. All five men have confessed, Xinhua said.
Chinese markets endured another roller-coaster-ride of a day on Monday, with both the CSI300 index and the Shanghai Composite Index dropped more than four percent before rising again in the afternoon. Both indexes fell by around 12 percent over the month of August, Reuters reported, and have lost almost 40 percent of their value compared to mid-June 2015.