It's 2010 in Central Asia, Again
The Internet, cotton, bus stops and a flash from the past feature in this week's recommended reads.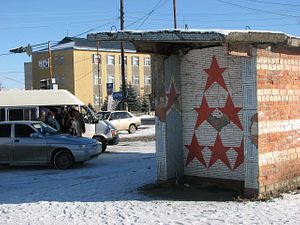 Central Asia reading (and watching) for the weekend:
The Internet has become such an integral part of modern life for many, a vital source of news and information from around the globe–but access can be difficult in Central Asia. Beyond simple infrastructure problems, the governments of Central Asia routinely limit access, blocking specific websites or knocking entire platforms–like Facebook–offline. Eurasianet has an excellent on-the-ground story about the Internet in Tajikistan, exploring the reasons the government chooses to stymie access. There's also some useful information at the end of the article for anyone in Kulyab near a certain hotel.
Rather than surfing the web, more than a million Uzbeks will be out picking cotton. The cotton harvest has officially begun in Central Asia and Vice News recently took a look at forced labor in Uzbekistan. Fewer children are laboring in the fields these days, after a global pressure campaign forced the government to change tactics. But state quotas remain in place and the government instead pressures both public and private employees into the fields. Liz Fields writes:
Uzbekistan's government wants the international community to believe that its high school and college students are willing participants in the nation's massive and compulsory annual cotton harvest — and has apparently strong-armed them into signing "voluntary" contracts to prove it.
Expulsion or field labor seems to be the choice for some Uzbek college students. And the children not working in the fields? Well, Matthew Fischer-Daly, coordinator of the Cotton Campaign says they're not being educated either–their teachers are in the fields.
Something to look at this weekend are pictures of Soviet-era bus stops in Foreign Policy (stick with me, here). Despite the lackluster appearance of Stalinist architecture across the former Soviet Union, designing bus stops fell to local authority and local artists. Reid Standish writes a brief overview of the importance of the bus in the Soviet Union in order to introduce the photography of Christopher Herwig. Herwig's book cataloging the amazing bus stops of the Soviet Union comes out later this month (the limited-release photobook did so well he's releasing a smaller trade version).
After looking at pictures of old bus stops (totally worth it), check out this five-year old Al-Jazeera investigation into radicalization in Central Asia. Muhiddin Kabiri, the leader of the Islamic Renaissance Party of Tajikistan (IRPT) who the Tajik government now accuses of being behind the recent violence, speaks in the video about the difficulty of the party's position, he notes that the IRPT is pushed on one side by radical Islamists and the other by an authoritarian government. The clip was surfaced by Navbahor Imamova of VOA on Twitter, but despite the 2010 timestamp could just as easily have been recorded last week.