Japan's Abe Is in for a Successful September, But at a Cost
Abe will see his security legislation passed, but will need to boost Japan's economy to win back support.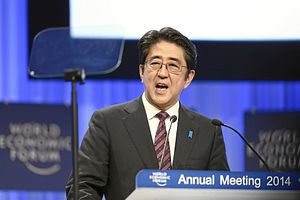 Despite opposition from the masses and dissension among the elites, Japanese Prime Minister Shinzo Abe will have a "successful" September, as he passes contentious security legislation through the Upper House and wins reelection as president of the ruling Liberal Democratic Party (LDP). However, such a narrow definition of "success" will likely not be enough to sustain his leadership in the long-term. If he has learned his lesson from his first tenure, we can expect him to refocus on the economy soon after the current Diet session ends on September 27.
Abe's approval rating took a hit in July when the security legislation was rammed through the Lower House. His numbers have recovered since then, likely thanks to his conciliatory statement marking the 70th anniversary of Japan's defeat in the war. But he is still demonized by politically activated citizens who oppose the security bills. Over this past weekend, tens of thousand of protesters rallied near Japan's parliamentary building. This was not the first protest of its kind against the security bills, which implement the Cabinet decision to reinterpret the Constitution to allow for collective self-defense, but it was the largest. Organizers estimate that 120,000 protesters participated, and the Diet rally was just one out of over 300 protests held across Japan this weekend.
At the elite level, Japan's opposition parties may be moving together to oppose Abe's LDP. The breakup of the Japan Innovation Party (JIP), which frequently cooperated with the LDP, is causing flux in the opposition landscape. Two Osaka-based leaders, Hashimoto Toru and Ichiro Matsui, left JIP after a leadership dispute over whether or not to align with Japan's largest opposition party, the Democratic Party of Japan (DPJ). Yorihisa Matsuno, the leader of what remains of JIP, is attempting to increase coordination with Katusya Okada, the DPJ leader, on various issues, including the Upper House elections next summer as well as opposition to the security bills.
These challenges to Abe and his agenda are undoubtedly serious. He has called off making any trip to China during September in order to focus on these domestic issues, in spite of the high priority he places on improving relations with China.
But, ultimately, the security legislation will be enacted, by virtue of the LDP-Komeito's numerical dominance. Even though counterproposals might be incorporated as additional resolutions, the content of the bills themselves are unlikely to change, reports Yomiuri Shimbun.
On the electoral side, according to sources who spoke to Asahi Shimbun, Abe will likely be elected unopposed, as he has the backing from all seven LDP factions. Shigeru Ishiba, a potential challenger, has already said he won't run. Seiko Noda is considering a run, but it is uncertain whether she can even get the minimum 20 Diet supporters to file her candidacy. If she runs, it would be to raise her profile rather than actually spar with Abe. The campaigning, which will begin on September 8, and run until the election, which will be held on September 20, is more of a formality than anything else.
Furthermore, JIP's dissolution might even end up being a boon for Abe. In the short-term, JIP's dissolution could be seen as a negative, because cooperating with JIP was an important part of the LDP's public relations strategy to avoid the perception of acting unilaterally. Due to the dissolution, JIP is unwilling, and more importantly, unable, to work with the LDP. But in the long-term, the split might end up being a positive, as the more conservative Osaka members create a new party to increase cooperation with Abe. Hashimoto is founding a new party – the Osaka Ishin no Kai – with 12 Diet members and is looking to woo even more to his side. He wants his new party to contest seats across Japan in the Upper House elections to be held next month. If his party is successful, it would help Abe and move Japan closer to revising the postwar Constitution.
After he passes his security bills and wins reelection, look for Abe to shift focus to the economy. While for outsiders – such as Americans, Chinese, and South Koreans – the revised security legislation will be the defining aspect by which they judge the legacy of Abe's second premiership, for the Japanese themselves, what matters more is whether Abe has succeeded in making their day-to-day lives better or not.
Japanese citizens' support for Abe – which has made him the longest serving Japanese prime minister since Junichiro Koizumi, who stepped down in 2006 – was predicated on the perception that Abe was focused, first and foremost, on the economy. While the first and second arrows of his much-vaunted "Abenomics" have been enacted, the third arrow has yet to find its mark. Restructuring the economy – while also trying to rein in Japan's ballooning debt and increase the defense budget – ought to be Abe's priority come October.
As Abe said himself when he announced his intention to run for reelection: "I have taken policy steps to end deflation and expand the economy. But I still have much to do for the economic recovery."