More Foreigners Kidnapped in Southern Philippines
Law and order continues to be a problem in the country's south.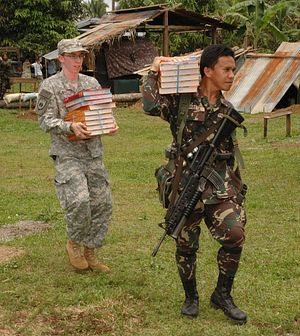 As Philippine president Benigno Aquino III begins to pack his bags for retirement and considers his legacy, one outstanding issue remains unresolved: a lasting solution to the civil conflict and the law and order mess it has created in the country's troubled south.
The latest kidnapping of three foreigners and a Filipina by the Abu Sayyaf, a militant Islamist group, was a case in point.
Two Japanese tourists had bravely attempted to the thwart the kidnappings, according to reports. They did not succeed and police believe Canadians John Ridsel, 68, and Robert Hall, 50, and Norwegian Kjartan Sekkingstad, 56, were targeted as opposed to being taken at random.
The Filipina, identified as Teresita Flor, 40, was understood to be the partner of one of the Canadians. They were abducted late Monday from the Holiday Oceanview Samal resort on Samal Island, which was managed by Sekkingstad.
Abductions have become commonplace over the past 15-plus years, ever since Abu Sayyaf leader Galib Andang, also known as Commander Robot – yes, that was his real nom du guerre  – ordered the kidnapping of foreign tourists from the deluded safety of holiday resorts in nearby East Malaysia.
Robot and his cohorts had attempted to legitimize their nasty operations – that includes the beheadings of Western tourists – by entwining the Abu Sayyaf with a broader jihad and an array of different rebel groups fighting for a degree of ethnic autonomy in the Southern Philippines.
However, their support fornow defunct Al-Qaeda affiliate Jemaah Islamiyah (JI) and the violent nature of Abu Sayyaf attacks earned them comparisons with the thugs and pirates who notoriously ply the Sulu Sea.
Robot's death in a prison riot was roundly applauded by many politicians and police.
Police believe the Abu Sayyaf could be involved with the latest kidnappings. But there were also reports that a note from the National People's Army (NPA) was found, reading "Justice for our commander." The NPA has run a communist insurgency in the area for decades.
Authorities are attempting to blockade Samal Island.
Three navy ships have been sent into the area, where the Abu Sayyaf attempted another kidnapping 14 years ago. It was a botched operation that cost the lives of three security men who fought back.
Not so late Monday evening, when eleven men posing as tourists and brandishing weapons were seen on CCTV chatting with their targets before the abduction. They reportedly spoke English and Tagalog.
Despite the region's vicious history, Capt. Alberto Caber told journalists the resort was considered safe given its proximity to the provincial city of Davao.
He said there were many lawless elements in Mindanao, but it was not clear which group was behind the latest abductions.
The Abu Sayyaf are still holding hostages from previous kidnappings.
Australian Warren Rodwell was freed after 15 months in captivity in March 2013 after being kidnapped by gunmen who identified themselves as members of the Abu Sayyaf. His release was secured after a $2 million ransom was demanded. The Australian government says it does not pay ransoms. It was never confirmed whether a third party had met the kidnapper's demands.
Another two Westerners were also abducted in 2012 while bird-watching. Swiss national Lorenzo Vinciguerra escaped while Dutchman Ewold Horn remains in captivity.
Rodwell's homecoming was seen as a victory for Aquino, whose administration has won respect within international diplomatic circles for its good governance after the corrupt decade of his predecessors, Gloria Arroyo and Joseph Estrada.
Aquino was at the Holiday Oceanview Samal resort for meetings just last week. His spokesman Herminio Coloma told journalists the president was monitoring developments and tried to stress that the authorities were doing their best.
"The investigation is in full swing," Coloma said.
Luke Hunt can be followed on Twitter @lukeanthonyhunt.