North Korea Flew a Spy Drone Across the DMZ
Amidst last month's tensions, Pyongyang repeatedly dispatched an UAV to observe South Korean troop movements.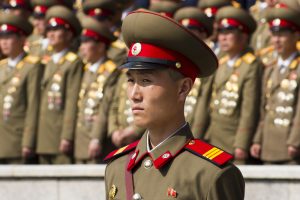 During the recent August crisis on the Korean Peninsula, a North Korean surveillance drone crossed the demilitarized zone (DMZ) and flew several times over a South Korean military outpost without being intercepted, the Republic of Korea (ROK) Armed Forces Joint Chiefs of Staff (JCS) revealed, according to Yonhap News.
The flights, above a military compound and along the central part of the four-kilometer-wide DMZ, took place from August 22 to 24. South Korean radar detected the first flight on August 22 at 11: 59 am and another flight at 6 pm "30 minutes before high-level talks began on Saturday at the truce village of Panmunjom," UPI reports. An unknown number of flights occurred on the following two days.
The JCS said that the incursion was detected by the South Korean military on its low-altitude surveillance radar as well as on another surveillance system, and that attempts were made to intercept the UAV.
According to Yonhap News, the military issued an anti-aircraft alert and dispatched an AH-1 Super Cobra, a twin-engine attack helicopter, and two fighter jets – a F-16 Fighting Falcon and a McDonnell Douglas F-15E Strike Eagle – to intercept the spy drone.
"After traces of an unknown vehicle were detected by radar, the military declared it hostile and responded with an Air Force combat jet and an Army Cobra attack helicopter, but the military's capacity to hit it was 'limited' because the radar detected and lost it repeatedly," the JCS noted.
It remains unclear whether the drone was identified or not. Yonhap News reports that it was only detected on radar but was never seen, whereas UPI cited other local news outlets that identified the UAV as a Bang Hyon II – a drone based on the Chinese-made D-4 UAV.
According to GlobalSecurity.org, the D-4 "is a low altitude, low speed miniature pilotless aircraft with wing span of 4.3 m, fuselage length of 3.3 m and maximum takeoff weight of 140 kg. It is the smallest and the lightest Chinese pilotless aircraft. It can carry 28 kg payload of special instruments and equipment."
North Korea allegedly acquired its first set of D-4 drones from China sometime between 1988 and 1990, after which it began its own indigenous UAV development program. The first Bang Hyon II drone purportedly entered service around 1993, based on an analysis by the SAIS U.S.-Korea Institute.
According to the institute's website:
Pyongyang has had an unsophisticated reconnaissance UAV capability since the 1990s. For the past decade, this force has expanded both in numbers and capabilities. Pyongyang's UAVs force now consists of 300 UAVs and at least 7 types, some of which are manufactured in several versions: 2012 attack/reconnaissance UAV, DR-3, Durumi, Panghyon I and II, Pchela-1T, Sky-09P and an unidentified reconnaissance/target UAV.
Experts described another North Korean drone that had crashed on South Korean soil in April 2014 as "toy-like", "poorly designed," and "antiquated."
Nevertheless, the recent drone incursion has led to some criticism of South Korean air defense capabilities. "Even in the DMZ area, any North Korean soldier or vehicles that crossed the military demarcation line are immediately subject to warning shots or artillery fire," one government official said, criticizing the South Korean military's inability to intercept the surveillance UAV.