Record Fall in China's Foreign Exchange Reserves: Cause for Concern?
Is the drop in forex reserves a warning sign, or a byproduct of successful economic interventions?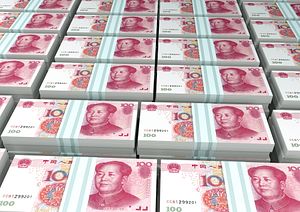 China's foreign exchanges reserves fell by a record $93.9 billion last month, marking the fourth consecutive month of dropping forex reserves, the People's Bank of China announced on Monday.
China's forex reserves previously dropped by $40 billion during the second quarter of 2015, hitting a nearly two-year low. The levels began dropping for the first time in a decade in the third quarter of 2014, Xinhua noted.
China's forex reserves now stand at $3.56 trillion – down from a high of $4 trillion in June 2014, but still accounting for around 30 percent of total central bank holdings around the world (which were valued at $11.43 trillion in March 2015). But some economists were actually relieved by the figures released on Monday – previous estimates for the drop in China's forex reserves had soared as high as $200 billion, Reuters noted.
The Wall Street Journal tied the decline in forex reserves directly to China's yuan devaluation, noting that the devaluation and a general economic slowdown are making the yuan a less attractive investment option. Meanwhile, China's central bank has been off-loading dollars and buying the yuan to keep the currency's value from dropping too steeply.
Xinhua, meanwhile, pointed to the rising value of the U.S. dollar as a major cause of the fall in the China's forex reserves. Not only did the value of non-dollar assets in the reserves drop, but "more individuals and enterprises are willing to hold U.S. dollars, resulting in dropping forex reserves," Xinhua explained.
WSJ also noted that China's reserves lost around $20 billion solely due to fluctuating currency values.
Beijing often cites "abundant" forex reserves as cause to be optimistic about the general state of China's economy. Though its reserves remain robust, if the trend of capital leaving China's shores remains strong, China's government might have serious cause for concern.
Chinese officials, however, maintain that there is cause for optimism. Zhou Xiaochuan, the governor of the People's Bank of China, told G20 finance ministers that China's stock market correction was "mostly over."
China's National Development and Reform Commission also announced that several important economic indicators – including electricity usage, rail freight volume, and the real estate market – improved in August. "The economy is expected to maintain steady growth and we are able to achieve [the] annual economic growth target," Reuters quoted the NDRC as saying.
At the same time, however, China's National Bureau of Statistics quietly revised GDP growth figures for 2014 down a notch, from 7.4 percent to 7.3 percent.