South Korea To Receive 'New' Anti-Submarine Warfare Aircraft
Seoul is moving ahead with plans to purchase refurbished Viking S-3 planes.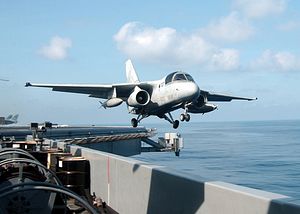 South Korea's Navy will procure 12 Lockheed Martin S-3 Viking anti-submarine warfare (ASW) aircraft with the option of eight more from the United States to counter threats from North Korea Yonhap news agency reports.
The article notes that a military program review group approved the purchase in August, which will now have to be evaluated by the Defense Acquisition Program Administration. Final approval will be up to South Korea's national defense system committee. According to an unnamed South Korean defense official, "using the planes can give the country the ability to deal more effectively with underwater threats."
The United States retired its fleet of S-3 Vikings in 2009 and purportedly offered its surplus S-3 aircraft to South Korea and other allies thereafter. Between 1971 and 178, a total of 187 S-3As were built. In the 1980s a much-improved S-3B version of the aircraft entered service specifically designed to counter quieter Soviet submarines. There are currently 91 S-3B models in storage out of which 87 could be refitted for active duty, according to the Defense Industry Daily.
The S-3 is known for its long endurance, fuel efficiency and ample space for electronics and sensors Foxtrot Alpha notes. The plane can carry a host of different weapon systems including aerial torpedoes, cluster bombs and various types of missiles. It can also be equipped with a retractable magnetic anomaly detector (MAD) Boom. However, as IHS Jane's Defense Weekly notes discussing South Korea's new S-3 fleet:
 As part of any refurbishment process, the aircraft would be equipped with sonobuoys and acoustic detection systems, although the official was unable to say if they'd also be fitted with torpedos, and/or a magnetic anomaly detector. While the mission system has yet to be decided, Lockheed Martin confirmed to IHS Jane's that it would be developed and installed by the company.
One of the principal advantages of buying the used planes would be the cheaper price tag in comparison to purchasing new ASW aircraft. South Korea wants to slowly phase out its fleet of P-3 Orion ASW planes and has shown interesting in acquiring 20 new maritime patrol aircraft, with the U.S.-made P-8A Poseidon as a potential replacement candidate. The S-3 Viking could be a good interim solution until a decision for a new maritime patrol aircraft has been made given continuing tensions with North Korea.
Back in August, amidst heightened tensions on the Korean Peninsula, over 50 North Korean submarines left their homeports – the largest deployment of North Korean submarines since the end of the Korean War. U.S. and South Korean aircraft unsuccessfully tried to locate the subs raising concerns about the Republic of Korea (ROK)  Navy's ASW capabilities.