Taiwan's Military Eyes Budget for New Submarines
The defense ministry seeks financing to expand the country's submarine fleet.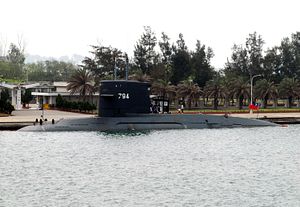 Taiwan's defense ministry has submitted a budget proposal to the country's legislature for an indigenous submarine project, local media sources reported August 31.
Taiwan has long sought to expand its aging submarine fleet. Taipei currently only has four submarines – two World War II-era U.S. Guppy-class boats and two other Dutch-built Hai-Lung class submarines commissioned in the late 1980s. For perspective, China currently operates more than 60 submarines and is rapidly expanding its anti-submarine warfare capabilities to further dilute any threat Taipei's future submarines could pose.
In that vein, Taiwan's Ministry of National Defense (MND) has reportedly proposed a NT$2.9 billion (US$89 million) budget to the Legislative Yuan to help get a program to build new submarines – the so-called Indigenous Defense Submarine (IDS) program – off the ground. The Navy is planning to award a design contract in 2016, with a budget of NT500 million for the first year of the project. The entire project is expected to span four years. The MND's proposed budget also includes a separate plan to upgrade the electronic warfare system of the two Hai-Lung submarines at a total estimated cost of NT$290 million, spread over four years from 2016 to 2019 and with NT$90 million for the first year.
The IDS program seeks to leverage both Taiwan's own industrial capabilities in addition to foreign technical assistance to the extent it is available to expand its submarine fleet. As two Taiwan naval officials wrote in The Diplomat in May, the program has been pursued by Taiwan following decades of missed opportunities, including the most recent proposal under former U.S. President George W. Bush in 2001 for the sale of eight diesel-electric submarines.
While specifics are still lacking, Taiwanese defense officials have said previously that they are looking to build at least four new submarines ranging from 1,200-3,000 tons. The MND also recently publicly clarified that though Taiwan is pushing ahead with IDS, it had not given up on the idea of assistance from the United States. Maj. Gen Luo Shou-le said on August 24 that Taiwan is continuing to the expansion of its submarine fleet through two channels: seeking arms sales from the United States and building submarines on its own. While the United States no longer builds the traditional diesel-electric submarines that Taiwan seeks, Luo argued that Washington can sell Taiwan the vessels through other means and channels.
These pathways are well-known, and pursuing them would be consistent with the 1979 Taiwan Relations Act which bounds the United States to provide arms for Taipei's defense. But any U.S. administration's desire to go through with them would likely have to factor in several other considerations as well, including China's reaction. Indeed, a persistent worry for Taipei is that despite its clear need for submarines and reportedly strong interest from international companies in third countries assisting with this quest, there may be reluctance to do so for fear of incurring Beijing's wrath as the cross-Strait military imbalance continues to widen.