US Agrees to Supply Taiwan With Advanced Torpedoes
The United States is purportedly ready to approve the sale of MK-48 heavyweight torpedoes.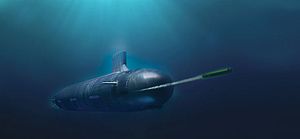 After many years of delay, the United States will finally approve the sale of advanced MK-48 heavyweight torpedoes to Taiwan, an unnamed official of Taiwan's Ministry of National Defense told Defense News.
According to local Taiwanese media reports, the "problem" over the purchase of the MK-48 has "now been resolved" and the MK-48 is included in this year's military budget request, currently being debated in Taiwan's Legislative Yuan. The sale of the torpedoes was first requested during the presidency of George W. Bush.
Neither the United States nor Taiwan has officially confirmed the deal. It is also unclear how many torpedoes will be sold and under what timeframe.
Once procured, the MK-48 Mod 6 Advanced Technology (AT) heavyweight torpedoes will be installed aboard the two Hai Lung-class (improved Dutch Zwaardvis-class) submarines, according to the source.
Both Hai Lung class submarines—the Hai Lung (Sea Dragon) 793 and Hai Hu (Sea Tiger) 794—are currently undergoing a $12.35 million life extension upgrade, overseen by the military-run Chung-shan Institute of Science and Technology. (The Republic of China Navy also operates two World War II-era U.S.-made Guppy-class subs)
As I noted previously (See: "Taiwan to Upgrade 2 Submarines"), the subs "will undergo hull, mechanical, and electrical upgrades, as well as non-propulsion electronic system modifications including upgrades to the TIMNEX 4CH(V2) electronic support measures system and a new combat system. The new combat system will in all likelihood be an off-the-shelf variant of Lockheed Martin's SUBICS (Submarine Integrated Combat System)."
The submarines are scheduled to return to active service in 2020, presumably armed with the new MK-48 torpedo. However, as reported elsewhere, in order to supply Taiwan with the MK-48, production would need to be restarted and it will be several years until additional torpedoes can be produced.
U.S. defense contractor Raytheon states that the MK-48 is"effective "against all targets, in both littoral and deep-water environments."
"The torpedo is capable of autonomous operation or control via wire link," according to the company website. "Software-based guidance and control enables autonomous operation, 'fire and forget' tactics, simultaneous multiple target engagement and close-in attack. MK 48 quieting technology … significantly reduces self-noise to enable covert deployment and minimize detection."
Taiwan intends to build a fleet of domestically designed and build submarines, as I noted elsewhere:
Taiwan announced in late December 2014 that it will domestically start building a fleet of indigenous submarines under the so-called Indigenous Defense Submarine (IDS) program. The program's aim is to construct eight attack submarines over the next decade. The program design phase is slated to begin this year. The first boat could be launched as early as 2024 and enter service with the ROCN two years later.
However, Taiwan lacks expertise in building submarines and will, in all likelihood, have to rely on outside help, which might be difficult to obtain given the People's Republic of China's likely negative reaction. It also appears unlikely that a foreign partner will agree to substantial technology transfers.