Turkmenistan Pushes Ahead on TAPI Pipeline
The Central Asia country is hoping to outpace post-sanctions Iran.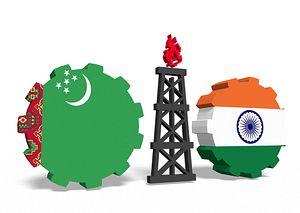 As the United States Congress prepares to deliberate on the agreement reached between Iran and the permanent members of the United Nations Security Council plus Germany (P5+1) over Iran's nuclear program, a small flurry of statements were released in mid-September announcing that construction on the long-stalled Turkmenistan-Afghanistan-Pakistan-India (TAPI) natural gas pipeline would commence in December 2015. The deal between Iran and the P5+1, the Joint Comprehensive Plan of Action, will remove international economic sanctions against Iran in exchange for Tehran freezing most of Iran's nuclear program. Facing the impending prospect of competition from Iran's unfettered participation in global natural gas markets, Turkmenistan has adopted a new policy orientation to expedite TAPI's construction.
The TAPI pipeline is slated to transport 33 billion cubic meters (bcm) of natural gas from Turkmenistan's massive Galkynysh field to neighboring South Asia, bringing some stability to energy-starved Afghanistan and Pakistan as well as helping to meet the Indian economy's own rising demand. TAPI will provide Afghanistan with 14 million standard cubic meters a day (mmscmd) of natural gas, while India and Pakistan will each receive 38 mmscmd. However, the $10 billion "Peace Pipeline" designed to promote regional cooperation will have to traverse a dangerous route before reaching India, passing through Afghanistan's Kandahar province and the neighboring Quetta region of Pakistan, traditionally the heartland of Taliban militancy.
Progress on TAPI's construction became bogged down precisely because of the risk involved in the route. The Asian Development Bank (ADB), which assumed the role of transaction advisor to facilitate the construction of the pipeline, estimates that the delays have raised the cost of the project by $2.5 billion to its current $10 billion price tag. In October 2014, the ADB commissioned a feasibility study for the TAPI pipeline project as part of its effort to establish a consortium that would construct the pipeline by 2018. At the November 2014 TAPI Steering Committee meeting held in Turkmenistan's capital Ashgabat, representatives from the four nations and the ADB agreed to an accelerated timetable for completion of the pipeline, designed to make TAPI operational three years after the start of construction.
On September 14, Chin Choon Fong, an ABD senior advisor for Central Asia, announced that the feasibility study for TAPI had been completed. Speaking to the press, Fong said, "Pipeline construction will begin after developmental activities have been completed, including detailed design and route survey and financing arrangements." Given that Turkmen media reported ten days earlier that experts from state-controlled Türkmengaz had started survey and engineering work on the route, Fong's cautious remarks appeared to confirm several positive statements about the pipeline's construction coming from TAPI consortium member Pakistan.
Three days prior to the ADB announcement, Pakistan's Prime Minister Nawaz Sharif reportedly told a meeting of business leaders in Islamabad that he would be traveling to Turkmenistan in December for the groundbreaking ceremonies. Sharif is no stranger to TAPI's vicissitudes, having served also as prime minister when the TAPI consortium's original incarnation, the Central Asia Gas Pipeline consortium (CentGas), was first incorporated in October 1997. Unlikely to be prone to unwarranted optimism, Sharif's statement can be taken as a sign of TAPI's brightening prospects.
Sharif's assessment echoes the press conference announcement made a week prior by Pakistan's Federal Minister of Petroleum and Natural Resources Shahid Khaqan Abbasi that the ceremonies inaugurating TAPI's construction would occur on December 25 this year, to be attended by the heads of state of the participating nations.
The major stumbling block for TAPI, the selection of a consortium leader willing to assume the risk for the pipeline's construction, seems to have been overcome last month with Turkmenistan's decisions to assume the role. According to the agreement reached between the four principals, Turkmenistan will assume a 51 percent stake in the project and will become the lead operator. Afghanistan, Pakistan, and India will each hold a minimum 5 percent share. This arrangement leaves up to a 34 percent stake for an international energy major to join the project. As analyzed previously in the The Diplomat, Ashgabat seemed to signal that it is willing to offer a sufficient profit share in the gas transported from Galkynysh to warrant an international company's assumption of the risk of the pipeline construction. While Turkmenistan technically will retain legal ownership of the land, it would agree to some form of a modified Technical Services Contract that would functionally provide sufficiently similar remuneration to a production sharing agreement.
The day after Fong's announcement, Reuters reported the comments of a Turkmen official speaking on condition of anonymity that Türkmengaz will start construction of the Turkmen segment of the pipeline in early December and then will be joined by international energy companies at a later stage. The official's implication that Turkmenistan has already succeed in obtaining the participation of foreign firms in TAPI may be alluding to Turkmen President Gurbanguly Berdimuhamedov's August 2015 statement that "world-renowned companies from Japan and South Korea had expressed their willingness to implement the TAPI project." Made during a working visit in Ankara with Turkey's political and business leaders, Berdimuhamedov also invited Turkey to participate in TAPI's construction.
With the recent expediting of the Iran-Pakistan Pipeline and Iran's overture to extend it to India, Turkmenistan is rightly concerned that its objective to develop export markets for its natural gas in South Asia could be undermined by Iran. Traditionally unwilling to do little more than deliver gas to its border, it seems that Ashgabat has now found sufficient motivation from Iranian competition to change course. Turkmenistan's new willingness to become involved in external pipeline projects may enable the construction of the TAPI pipeline to finally begin before year's end.
Micha'el Tanchum is a Senior Fellow with the Eurasian Energy Futures Initiative at the Atlantic Council. Follow him on Twitter @michaeltanchum.