US Submarine Fleet in the Pacific Has New Commander
Rear Admiral Frederick J. Roegge takes over during a testing time in the region.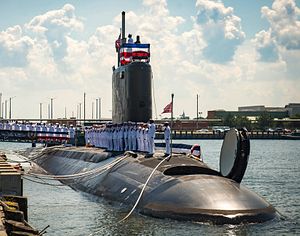 The U.S. Pacific Fleet submarine force has a new commander who will be confronted by a myriad of threats and challenges including Chinese assertiveness in the East and South China Sea, ongoing tensions on the Korean Peninsula, and an increase in Russian naval activities in the Pacific, according to Admiral Cecil B. Haney, commander, U.S. Strategic Command and guest speaker during a ceremony at the U.S. military base at Pearl Harbor, according to the U.S. Pacific Fleet website.
Haney spoke on the occasion of a change of command during which Rear Admiral Phillip G. Sawyer turned over command of the Submarine Force, U.S. Pacific Fleet (COMSUBPAC) to Rear Admiral Frederick J. Roegge. Sawyer had assumed command in August 2013 and oversaw day-to-day operations of 60 percent of the U.S. Navy's entire submarine fleet. The U.S. Navy's submarine fleet in the Pacific specifically acts as Task Force 134 for strategic deterrent submarine operations as well as Task Force 34 for theater anti-submarine warfare. The subs are also used for intelligence gathering activities.
During his speech, Admiral Haney, a former submarine commander himself,  sketched out the challenging new regional environment for the new commander. "For example, we see China's efforts to assert regional dominance in the East and South China Seas while at the same time they're operating a new ballistic missile submarine force, modernizing its mobile and fixed intercontinental ballistic missiles and conducting persistent cyber activities and counter space demonstrations," he noted.
Haney sees the U.S. submarine fleet in the Pacific as a critical component to ensure regional stability amidst regional tensions. "The reach and endurance of our submarine force as part of our whole-of-government re-balance to Asia-Pacific is vital to regional stability, maritime security, the world's economic engine and assuring our allies, both in and beyond this region," the admiral stated.
He also called for an increase in the number of subs deployed in the Pacific. "We must, for example, have more of these new Virginia-class (attack) submarines. We must also recapitalize our sea-based strategic deterrent. Our Ohio-class submarines have been sustained beyond their original 30-year service life," he added. The U.S. Navy currently operates 42 submarines in the region, including ballistic missile subs, guided missile subs, and fast-attack boats.
As I reported in April (See: "How Many Attack Submarines Does the United States Navy Need?"), the U.S. Navy is looking into the possibility of building three instead of two new nuclear-powered Virginia-class attack submarines (SSN-774) per year, since older Los-Angeles-class fast-attack submarines (built between 1972 and 1996) are retired at a faster pace than Virginia subs are added. In that article, I noted:
[B]eginning in 2025, active SSNs will gradually drop below that number and eventually bottom out at 41 in 2029, which implies a shortfall of seven boats that year. Based on the U.S. Navy's current 30-year SSN procurement plan, this gap will exist for 12 years until 2041, when the number of SSNs will finally be back at 48.
According to the U.S. Pacific Fleet website, its submarine force provides anti-submarine warfare, anti-surface ship warfare, precision land strike, intelligence, surveillance, reconnaissance and early warning and special warfare capabilities.