Defending Digital Freedoms in Pakistan
Nighat Dad's Digital Rights Foundation is creating awareness about online harassment and Internet governance.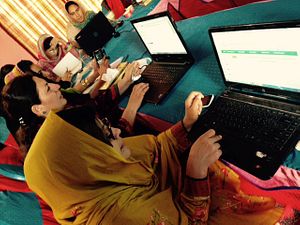 This year, one of TIME's Next Generation Leaders, Nighat Dad, a young Pakistani activist and lawyer based in the city of Lahore, is one of the most significant voices in the country in creating awareness amongst Pakistani women about cyber crimes and cyber harassment. Having founded her not-for-profit, Digital Rights Foundation (DRF) a few years ago, Dad, also a member of Amnesty International's Advisory Council on Human Rights and Technology, not only focuses her work on coaching Pakistani women about online harassment, but also works on Internet governance in a country where freedom of speech via the Internet has been consistently curtailed and restricted; one major example being the ongoing ban on YouTube by the Pakistani government since 2012.
In an interview with The Diplomat, Dad speaks at length about her work, the taboo of raising a voice against harassment in a conservative society and the future of digital security in Pakistan.
You're a lawyer by profession; how did you venture from criminal and family law to digital security?
I practiced criminal and family law for a few years but got interested in Internet governance when some women – who were victims of cyber crimes – got in touch with me as they were looking for legal advice. To my surprise, I couldn't find any cyber law that could provide them any legal remedy. In 2009, the only cyber law, "Prevention of cyber crime ordinance 2007," was lapsed; in any case that was a draconian law, but no government has come up with a comprehensive cyber crime legislation. In recent years, Internet and mobile users have truly increased in Pakistan, and hence, the cyber crimes. In all these years, working on issues like Internet governance and access to technology in Pakistan, I feel that the most vulnerable ICT users are women. In the absence of any laws and awareness, women often become victims of online harassment and the sad part is that they don't even know that it is, in fact, a form of harassment and that they can file a civil suit against the perpetrator.
You launched your not-for-profit, Digital Rights Foundation, in 2012 – how was it received by the public?
With the increasing awareness about Internet regulations and Internet laws, people started taking our work more seriously. In the beginning we were repeatedly told that in Pakistan we don't have fundamental rights, therefore why waste time working on digital rights? But with the increasing regulation of the Internet by the government of Pakistan and its banning of YouTube, people began to realize how important digital rights are in the country. In a report published by UNHRC, access to the Internet was declared a fundamental human right. That means that when a person's access to the Internet is hindered, it is a severe violation of his/her rights.
In Pakistani society it is unfortunately taboo for women to speak out against harassment, much less cyber harassment. How is your foundation encouraging women to not only protect themselves, but to also feel a lack of fear and shame in raising their voices against cyber harassment? 
Having access to the internet has become more important than ever before for women; they're able to gain knowledge, communicate with people, and improve their lives. If they're harassed or intimidated online, there is this fear that if they tell others, their Internet access can be restricted. As a result, women are often made to feel that they have to suffer in silence, to avoid losing this valuable resource. Pakistan's Federal Investigation Agency reported 170 cases of digital harassment against women in the Punjab province, whereas the actual number is usually higher.
What Digital Rights Foundation (DRF) does is that we teach women about the importance of protecting themselves online. We provide training seminars and workshops wherein we teach them the skills necessary to strengthen their online security, and of those around them. We also encourage women to (anonymously) inform us of harassment and threats of blackmail or violence against them, so that we can then assess if legal avenues of action can be pursued.
Have you faced any backlash through your work?
When I began my work, and made contact with the Nobel Prize Winner Malala Yousafzai – who had attended one of our workshops – we did receive criticism online, and some threatening phone calls. Because part of what we do deals with  advocacy of greater freedom of expression and the right to privacy, we have often been accused of following a "Western agenda" by more conservative elements of Pakistani society.
Please comment on the government's role in online freedom of speech in Pakistan, especially taking into account the YouTube ban that hasn't been lifted since 2012…
If we're talking about what the government's role should be, then its duty is to ensure that there is a progressive and measured balance between safety and freedom of expression online and offline. The reality is that legislation is being pursued that would encourage greater censorship and invasion of privacy, with little to no public oversight. Rights organizations and tech industry bodies in Pakistan have voiced concern over the direction being taken by the government with regards to online freedom of speech. What DRF and others are doing is trying to get government officials on board to understand that allowing and encouraging freedom of expression on and offline is in the best interests of the nation; rather than stifling discourse for political reasons. The YouTube ban, for example, was not enacted with any rational public discussion or debate. As a result, quite a few Pakistani organizations and companies have lost an important means of getting their messages or products across, losing out on an audience of millions.
What's the future of digital security in the country?
Before asking about its future, you have to ask, digital security for whom? Too often digital security infers that to defend digital borders from attack, they have to be hardened, and the keys have to be given over to the authorities, who will usually be given sweeping powers to do what they want, when they want.
Western nations such as Canada, France, the U.S., and the UK have either given more power to agencies to monitor their own citizens, or are on the way to doing so. Pakistan is in danger of doing the same, of looking at unchecked surveillance and powers by authorities as a means of protecting us, the citizenry. Yes, the government is meant to protect its people, but what is needed is a progressive and ethical policy that ensures that there is a balance between security and freedom. What we have in Pakistan is a situation where encryption is banned, as is the usage of VPNs and other proxy software used to access YouTube, et al. Until we have legislators that are digitally literate and open to new ways of thinking, the future of digital security looks quite bleak.
Sonya Rehman is a journalist based in Lahore, Pakistan. She can be reached at: sonjarehman [at] gmail.com