Experts: North Korea's Not Preparing for a Satellite Launch
Despite rumors, satellite imagery analyzed by 38 North suggests a launch is not going to happen on October 10.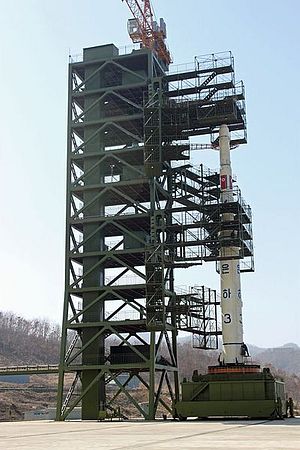 Despite recent rumors, North Korea is not preparing for a satellite launch on October 10, when Pyongyang will celebrate the 70th anniversary of its Korean Workers' Party. Recent satellite imagery does not show any launch preparations underway at the Sohae launch facility, said analysts with 38 North, a website providing analysis of North Korean affairs and a program of the U.S.-Korea Institute at Johns Hopkins School of Advanced Internationals Studies.
A bit of background first: the idea that North Korea would conduct a satellite launch – regarded by the United States and South Korea as an excuse to test ballistic missile technology – on October 10 emerged in the aftermath of North-South tensions this August. Speculation ramped up when North Korea's KCNA published an interview with the director of North Korea's National Aerospace Development Administration, who said that Pyongyang was in the "final phase" of developing a new earth observation satellite.
Analysts at 38 North, however, said satellite imagery analysis tells a different story.  "[A]ll these reports about a possible long range rocket or nuclear test on or before October 10 are just all wrong," Joel Wit, a co-founder of 38 North and a senior fellow at the U.S.-Korea Institute, told reporters on Monday. There's "no evidence to support it whatsoever," Wit said.
As of September 27, satellite imagery obtained by 38 North wasn't showing anywhere near the level of activity that would precede an imminent satellite test. In particular, it was clear that there was no rocket on the gantry, and there was no noticeable uptick in activity at the fuel and oxidizer buildings. It's "too late now" for North Korea to begin prepping for a launch on October 10, Wit said. According to past precedent, analysts would begin seeing a "significant increase in activity" at Sohae between four to six weeks ahead of the launch. At least one week before, satellite imagery should show fuel being brought to the rocket. Without those signs of preparation, Wit said that he is "95 percent sure it's not going to happen."
But that doesn't mean Sohae is sitting idle. On the contrary, 38 North showed satellite images revealing major construction work on the launch facility, including the creation of two new preparatory buildings (one stationary, one able to move on railway tracks) that could make it more difficult for analysts to see the early stages of launch preparations via satellite. The gantry at Sohae has also been expanded significantly, and can now accommodate a larger rocket.
Wit also said 38 North had noticed a "large-scale construction program" to build new fuel and oxidizer facilities. Construction started in May and was nearing completion at the end of September. These new buildings are much larger than the old facilities, suggesting, Wit said, that "North Koreans are getting ready to test much larger rocket engines than they've tested in the past." As Wit explained, "Much larger rocket engines mean larger rockets, and maybe ones with longer ranges." It's still unclear, however, how close North Korea is to developing a larger rocket.
So even if North Korea doesn't carry out a launch on October 10, it doesn't mean their ballistic missile program is standing still. As John Schilling, an aerospace engineer who often provides analysis for 38 North, told the press, it's unlikely that North Korea would carry out so much construction on its launch facilities if there were no plan to use it – even though a launch doesn't seem imminent at the moment. Schilling also noted that he expects the next launch to be a repeat launch of the Unha-3 rocket, which enjoyed the only successful satellite launch North Korea has had to date (though the satellite itself failed soon after achieving orbit). Given that Pyongyang is one-for-four on launches, the assumption is that they will want to test the Unha-3 "a few more times" to make sure all the bugs are worked out.
The upshot: don't expect a North Korean satellite launch on or before October 10, but don't make the mistake of assuming that Pyongyang's rocket program is standing still. North Korea is upgrading its facilities to handle both larger rocket engines and larger rockets – maybe not this month, or even this year, but at some point in the future.