Illuminating Old City Dhaka
Festival organizers hope to put a spotlight on the old city's beautiful bones.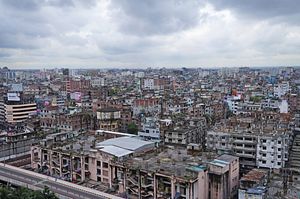 When people talk about Dhaka, the capital of Bangladesh, they don't often call it beautiful. One of the world's fastest growing megacities, the place is desperately overcrowded. A trip anywhere usually entails hours in traffic in the back of an auto-rickshaw, while huffing polluted air. But those who venture south, to the historic old city, will this weekend be rewarded with a different view.
Here, the streets are a panoply of moldering mansions from the time when Dhaka was the center of the Mughal Empire and, later, under British rule. As the city struggles to accommodate its growing population, many of the colonial-era and older buildings have been demolished to make way for high-rises or simply left to rot.
On Friday and Saturday, local and international culture organizations are joining together to hold a rare celebration of the historic old city, or "puran Dhaka." Some of Dhaka's most beautiful – and most neglected – buildings will be brought to life with video and light installations by French and German artists. Dancers and musicians will perform in front of the neoclassical remnants of Dhaka's once-grand waterfront promenade.
The organizers, local heritage experts The Urban Study Group (USG), The Alliance Française de Dacca, and Goethe-Institut Bangladesh, hope the festival will be a step towards establishing yearly events.
During a recent walk around the neighborhood, Sourav Saha Agun, a student volunteer with USG, recalled how last March he helped string up lighting in the ballroom of Ruplal House, a run-down mansion on the banks of the Buriganga River.
Built in the 1800s, the house belonged to two influential Hindu merchants, Ruplal Das and his brother Raghunath. They hosted concerts by Indian classical musicians as well as parties for leading colonial officials. The reception that greeted Britain's viceroy, Lord Dufferin, when he visited in 1888, was held in their ballroom.
More than a century on, the house has been occupied by vegetable and spice markets. A few families live in the mansion illegally, their washing strung from the columns. The ballroom is off-limits to the public.
Last year's festival was the first time Agun had been inside.
In Dhaka, heritage is an unusually divisive subject. Local property owners are often resistant to efforts to protect buildings, explained Taimur Islam, the head of USG, during an interview at his office.
"For them, this designation is an opportunity lost because they could actually demolish without it," he said.
A perception that the buildings are unsafe – fueled by the collapse of a colonial-era building in 2004 and a fire a few years later – adds to the tension. He hopes this weekend's festival can help shift local attitudes towards heritage.
"We want the community to take notice of what's happening there and why we think those buildings are so special," he said.
Earlier this week, volunteers like Sourav discussed the plans on a Facebook group.
"This festival hopefully will be the biggest bash of this year!" wrote one. "A lot of exciting surprises are on the way."