Malaysia, Singapore Begin 'Next Phase' of High-Speed Rail Project
Industry views sought for link expected to be completed by 2022.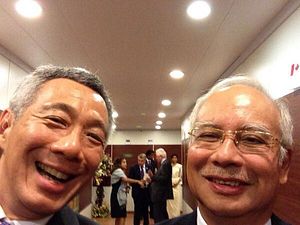 Malaysia and Singapore moved forward on their high-speed rail project Wednesday with a new effort to gauge market interest and gather industry views to inform ongoing bilateral discussions.
According to a press release issued October 7, Malaysia's Land Public Transport Commission (SPAD) and Singapore's Land Transport Authority (LTA) have jointly launched a market sensing exercise via a Request for Information (RFI) on the Kuala Lumpur-Singapore High Speed Rail (HSR) project.
The move was described as "the next phase" of the 330-kilometer link, which was first announced by Malaysian prime minister Najib Razak and his Singapore counterpart Lee Hsien Loong in February 2013 at the Malaysia-Singapore Leaders' Retreat. The HSR, with terminus stations in Kuala Lumpur's Bandar Malaysia and Singapore's Jurong East, has been seen as a major marker in the development of bilateral ties and is expected to dramatically improve connectivity between both sides, with travel time being cut down to 90 minutes.
In a joint statement, Singapore's new coordinating minister for infrastructure and minister for transport, Khaw Boon Wan, and a Malaysian minister from the prime minister's department, Abdul Wahid Omar, described the exercise as a "major milestone" in the project's evolution.
"This market sounding exercise marks a major milestone in our HSR journey. It is important for us to be properly informed of the industry views… The feedback is crucial in helping us refine and validate our options, which will in turn help ensure a successful tender process subsequently," the statement said.
The market sounding exercise is expected to conclude by the end of 2015.
The project itself is now expected to be completed only in 2022, two years later than its original 2020 target. Last month, SPAD's chief development officer Prodyutt Dutt confirmed on the sidelines of Rail Business Asia 2015 that the project remains on track for completion by then, with work packages to be dished out as early as 2017.