Myanmar's Big Moment
The forthcoming elections are a critical step into a somewhat uncertain future.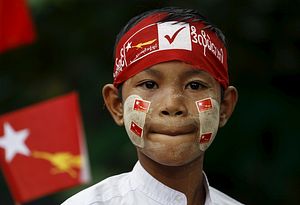 For a brief moment, it seemed as if Myanmar's eagerly awaited legislative elections might yet be postponed, ostensibly because of recent flooding. The military-linked Union Solidarity and Development Party (USDP) favored a delay, but the opposition National League for Democracy (NLD) was opposed to any rescheduling. The Union Election Commission (UEC) reconfirmed the original date of November 8, 2015 for the landmark election. Myanmar's voters will thus be able to cast as planned their ballot for candidates standing in elections for the lower (House of Representatives, Pyithu Hluttaw) and upper house (House of Nationalities, Amyotha Hluttaw) of the union assembly (Pyidaungsu Hlutttaw) as well as Region and State parliaments.
The elections mark an important point in the country's political history: By voting for their preferred party, Myanmar's voters are at least implicitly taking a position on whether simply to continue the reform process initiated by President Thein Sein, or whether to endorse the vision of a more radical political and constitutional change at the expense of the military. The leader of the main political opposition party, Aung San Suu Kyi, seems convinced that the NLD will win the elections in a landslide and that she will lead a new government.
Yet that outcome cannot be taken for granted. Indeed, there is much uncertainty over how the election results will play out in political terms. To some extent this uncertainty also extends to Myanmar's relations with key Western states, such as the United States. This uncertainty will persist until the eventual shape of the new government is known.
Toward the 2015 Elections
The by-elections of 2012 apart, voters in Myanmar last went to the polls five years ago. Still organized by the previous military regime as part of its "roadmap to democracy," the November 2010 elections have always been regarded as flawed, in part because the political process leading up to the elections was not inclusive. Boycotted by the NLD and comprehensively won by the USDP, the 2010 elections produced a Union parliament that critics of the military have never recognized as being fully legitimate. Nevertheless, parliament has itself arguably performed much better over the years than could be expected in 2010, notwithstanding the constitutional provision whereby appointed military representatives make up 25 percent of legislators in both chambers of the union assembly.