Russia's Putin Finds Time for Central Asia Amid Birthday Celebrations
Between airstrikes on Syria and ice hockey, Russian President Vladimir Putin made time for his Central Asian allies.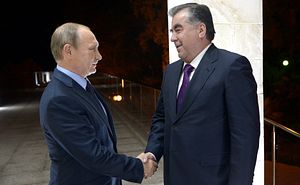 While the definitive highlight of Russian President Vladimir Putin's 63rd birthday was probably his ice hockey game, a close second is surely his debrief with Defense Minister Sergei Shoigu on Russia's recent campaign of airstrikes on Syrian rebels–including  26 cruise missiles launched from Russian ships in the Caspian Sea. Still, Putin made time during his jaunt to Sochi–referred to as a "work trip" by Pravda–for his Central Asian allies.
On Tuesday, Putin met with Tajik President Emomali Rahmon. Rahmon's birthday was Monday, he also just turned 63–though with considerably less fanfare. The subject of their meeting was the Tajik-Afghan border, which over the past few months has grown as a point of concern among the region's leaders.
According to the Kremlin, Rahmon implored Putin to "take up security issues within the CSTO responsibility zone because the Tajik-Afghan border runs through that zone."
"The situation in Afghanistan worsens with every day," he said. "Hostilities are underway along over 60 percent of the border. This is very alarming; therefore, today I would like to take up specifically matters of ensuring security in the region."
A Kremlin spokesman told reporters on Tuesday that there were no agreements made "to increase presence there, but Putin and Rahmon agreed that what is happening in Tajikistan and the surrounding areas is a cause of concern."
But on Wednesday, a representative from Russia's Central Military District, as reported by Sputnik, told reporters that Russia would be bolstering its military assets in Tajikistan with additional helicopters, including Mi-24P attack and Mi-8MTV transport and combat helicopter. As RFE/RL notes in their coverage of the news, Russia has not been specific about the number of helicopters to be added to Russia's existing military presence in Tajikistan.
Russia's largest base outside of the Russian Federation is near Dushanbe and according to Sputnik the additional helicopters will reportedly be deployed to the Ayni airfield–which often comes up associated with rumors of an Indian base in the country (to-date, not true).
Rahmon isn't the only Central Asian leader to pay a visit to Sochi this week. Kyrgyz President Almazbek Atambayev flew to Sochi today for a "working visit." 24.kg reported that the president's press service said he would be meeting with Putin, and  "The head of states will discuss topical issues of bilateral cooperation, implementation of joint projects, as well as prospects for further cooperation in various spheres, including in the framework of the Eurasian Economic Union."
The meeting between Atambayev and Putin comes days after Kyrgyzstan voted on a new parliament in elections widely acclaimed as free and fair–perhaps a first in the region. While the democratic nature of the election delighted the West, the general pro-Russian bent of parties is likely to have pleased Moscow. While many Western media outlets commented on the "victory" of pro-Russian parties in the election, that creates a false dichotomy in a way. For the most part, Kyrgyz parties don't have coherent platforms built around being strictly "pro-Russian" or "pro-American." Still, as evidenced by Kyrgyzstan's entry into the EEU–prompted by a host of geographic, economic, and geopolitical reasons–the country's politics has certainly leaned toward Russia. "I believe our relations have reached an absolutely new stage," Atambayev told Putin.
Not to be left out, Kazakhstan's President Nursultan Nazarbayev–who was with Putin and Belarusian President Alexander Lukashenko in Sochi in mid-September–phoned to wish Putin a happy birthday.