South China Sea: No Win-Win for China and US
Neither China nor the U.S. can back down now without losing credibility and face.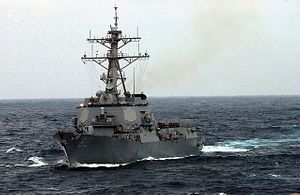 In October 2015, the U.S. Navy announced that it was preparing to send a surface combatant to sail within 12 nautical miles – what the United Nations Convention on the Law of the Sea (UNCLOS) recognizes as the territorial waters of littoral states – of the artificial islands that China has been constructing in the South China Sea. On October 27, the USS Lassen, an Arleigh Burke-class guided missile destroyer, patrolled within 12 nautical miles of Subi Reef, in the Spratly Islands.
As Ashton Carter, the U.S. Secretary of Defense, said, "Make no mistake, the United States will fly, sail and operate wherever international law allows, as we do around the world, and the South China Sea will not be an exception."
The move has potentially serious consequences for the security and stability of the South China Sea and Southeast Asia, especially when one considers the more intrusive nature of prospective U.S. Navy intelligence-gathering activities so close to the artificial islands. The U.S. Navy risks creating a situation where there is no win-win solution for either the United States or China.
At least two possible scenarios eventuate from this policy position: One, China is forced to back down and lose any credibility as a great power that has overcome its Century of Humiliation; or two, the U.S. ultimately gives way on future freedom of navigation patrols, undermining at best the credibility of its security guarantees to its allies and security partners in the Asia-Pacific.
Legal and Strategic Aspects of the Artificial Islands
The problem of the artificial islands is complicated. One, its legal status is contested. The U.S. holds to the position that there is no 12 nautical mile limit that China can claim around these artificial islands, as the original features are not islands as defined by UNCLOS. Of course, the U.S. position is potentially weakened by the fact that it has yet to ratify UNCLOS. On the other hand, as Chinese President Xi Jinping said in his recent visit to the U.S., China's claim of sovereignty over the islands in the South China Sea dates back to "ancient times." Clearly, China is not about to budge on its claims of sovereignty over the islands and reefs of the South China Sea.
Two, these artificial islands are geostrategically very important. Sitting in the center of the South China Sea, whoever controls the waters around these artificial islands potentially controls the entire South China Sea. Indeed, Carl Thayer argues that "China is slowly excising the maritime heart out of Southeast Asia."
It is true that Xi, however, also pledged that China will not "militarize" the artificial islands. However, as Bonnie Glaser noted, while Xi's statement might be "new language," it is nevertheless unclear what exactly "militarization" means: "No fighters using the air strips? No deployment of missiles?" These questions remain unanswered.
The Strategic Symbolism of the U.S. Decision
The U.S. move may be an attempt to weaken China's position in its various territorial disputes with other regional states. The U.S. holds to the position that in the case of China's territorial dispute with Japan, Chinese coastguard vessels routinely sail within 12 nautical miles of the disputed islands. This U.S. announcement is therefore a reflection of these Chinese actions, and may undermine the legality of the artificial islands as a sovereign part of China. There is therefore a symbolism inherent in this U.S. decision, to demonstrate the bankruptcy of China's claims.
Of course, there is another potential narrative at work, one that stems from the so-called geopolitical pivot that the first Obama administration had announced in 2011. In this case, a U.S. naval presence in the South China Sea is itself not potentially problematic, but merely the manifestation of this supposed geopolitical pivot. Such deployments might therefore be merely gestures designed to reassure its allies and security partners of the continued commitment of the U.S. to the security and stability of the Asia-Pacific region.
Implications for U.S. Intelligence Gathering against China
It is well known that Beijing has long been especially concerned about close-in surveillance conducted by U.S. military aerial assets near Chinese coasts, especially above the Chinese-claimed exclusive economic zones (EEZs). China's response to the U.S. Navy's EP-3 signal intelligence aircraft in April 2001 off Hainan Island is instructive of Beijing's disapproval of what it perceives as activities that impinge upon its national security interests. As South China Sea tensions rise, the number of aerial incidents involving Chinese interceptors and U.S. surveillance aircraft has surged.
The higher frequencies (thus shorter wavelengths) that modern electromagnetic transmitters such as radars and communication systems operate on necessitate signal intelligence platforms to operate closer to these transmitters. Having in the past performed such intelligence gathering activities within China's EEZs, moving even closer to the artificial islands where military infrastructure development is reportedly taking place is akin to upping the ante and could therefore be perceived as even more provocative. For one thing, unlike an aerial asset, the surface warship can loiter in the area for longer durations. This allows the vessel's signal intelligence systems a greater chance to intercept more detailed, and possibly more precise, technical information about the electromagnetic transmitters installed on the Chinese-occupied features, since variable marine environmental conditions coupled with distance may attenuate the signal quality.
Not only that, a vessel deployed at such close proximity to the coast allows it the opportunity to glean a more diverse range of technical intelligence, such as visual information that satellite or aerial imagery may fail to observe. On the above counts, therefore, deploying a surface vessel instead of an aerial platform so close to the sensitive sites becomes particularly disconcerting to the Chinese. In December last year, a Vietnamese warship reportedly sailed within a few hundred meters of Chinese-occupied Johnson South Reef to observe ongoing construction activities. It was later shooed away by a Chinese frigate. A similar standoff may potentially repeat itself when the U.S. Navy begins to sail within 12 nautical miles of those artificial islands and begin to conduct perceivably more intrusive intelligence-gathering activities.
Likely Outcomes?
The U.S. decision, together with China's unwillingness to compromise on its South China Sea claims, has created a potential winner-take-all situation. It is difficult to see how a win-win situation could eventuate. The reality is that neither China nor the U.S. can back down without losing credibility and face.
If the U.S. ultimately gives way, it risks losing credibility in the eyes of its allies and security partners in the Asia-Pacific region. It would undermine the U.S. role as the principal security guarantor – something that most states in the Asia-Pacific are at least tacitly comfortable with. For allies like Japan and South Korea, this may force them to subsequently choose between continuing to rely on a patently unreliable security guarantor, moving towards a more conciliatory or positive stance with regards to China, or seeking to enhance their existing military capabilities. For Japan, the nuclear weapons option will be tempting – and quickly achievable, by most assessments. At the very least, the third option will likely bring about a Sino-Japanese arms race, a prospect that surely few states in the region would welcome.
Likewise, China cannot afford to back down from its South China Sea claims: Doing so would undermine China's great power status and would force China to revisit its so-called Century of Humiliation. It is difficult to see how China could accept such an eventuality.
Of course, neither scenario has to end in a great power war. Proper diplomatic management, together with crisis management mechanisms if a crisis erupts, can prevent a Sino-American war from breaking out. But it does raise the possibility that incidents and close encounters between the two armed forces, something that has become commonplace, might also spark conflict. And while both countries have managed their bilateral relationship well thus far, this does not provide any guarantees against the worst-case scenario.
What this therefore means is that it becomes all the more important that a solution – one that is not winner-takes-all in nature – needs to be found. Both China and the U.S. need to find a way in which both can walk away without making too many sacrifices on their respective core interests. Whether or not such a win-win solution can be found remains to be seen.
Bernard Fook Weng Loo is Associate Professor and Coordinator of the Master of Science (Strategic Studies) Degree Programme, and Koh Swee Lean Collin is Associate Research Fellow at the Maritime Security Programme of the Institute of Defence and Strategic Studies, a constituent unit at the S. Rajaratnam School of International Studies, Nanyang Technological University, Singapore.