Taiwan's KMT Moves to Replace Its Presidential Candidate
Facing disastrous polls, Taiwan's ruling party will officially consider options for replacing nominee Hung Hsiu-chu.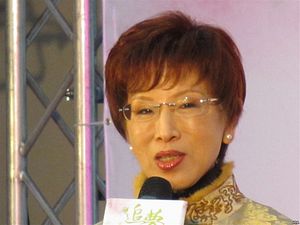 It's no secret that Taiwan's current ruling party, the Kuomintang (KMT), faces an uphill battle to retain the presidency in the January 2016 election. KMT candidate Hung Hsiu-chu is trailing opposition candidate Tsai Ing-wen, head of the Democratic Progressive Party (DPP), in the polls – by double-digits. Tsai is consistently showing 40-50 percent support in the polls, while Hung's numbers are closer to those of third party candidates James Soong – both of them far behind Tsai. One recent poll had Tsai at 45 percent support and Hung at only 12 percent.
Any KMT candidate would be facing strong headwinds, as demonstrated by abysmal approval ratings for current KMT president Ma Ying-jeou and sweeping DPP victories in last fall's local elections. But many in the party seem to believe Hung specifically is the problem. Nicknamed "little hot pepper," her fiery disposition may be working against her on the campaign trail, especially given that some of her policy positions on cross-strait relations seem out of touch with the current mood in Taiwan (and with the KMT mainstream).
The KMT is worried enough about Hung's viability as a candidate that it may actually move to replace her. On Wednesday, the KMT's Central Standing Committee unanimously agreed to hold a special party congress to officially talk about the possibility of replacing Hung. The congress should be held before the end of October, according to Taiwan's Central News Agency (CNA).
According to previous reports from CNA, Eric Chu, the current KMT chairman and mayor of New Taipei, had privately urged Hung to step aside and allow another candidate to run – most likely Chu himself. Media reports said that KMT candidates for the legislature were growing increasingly worried that Hung's low poll numbers would affect their own chances in the election.
Chu acknowledged to the media that he had met with Hung to discuss her low poll numbers, but stopped short of saying he had in fact asked her to remove herself from the race. "I needed to tell her a truth that, from a grassroots level right up to heavyweights within the party, there are differing opinions and voices concerning her [candidacy]," Chu told reporters.
"Maybe she doesn't care about her personal success or failure… but as the KMT chairman, I must consider our party's future existence," Chu continued.
Hung has remained defiant. In a press conference on Tuesday, Hung said, "I will insist on my original intention to run for president and carry out my promise."
She has also argued that there is no provision in the KMT by-laws that allows a candidate to be replaced simply because of low poll ratings. In a Facebook post, she said that attempts to replace her were tantamount to "destroying the system and discrediting the party." She predicted that "those suffering the most will be the party itself and those running (for legislative seats) on the KMT ticket."
"I cannot think of a reason to quit at the moment," she told CNA.
Meanwhile Eric Chu, the likely replacement for Hung, would have to go back on a previous promise not to run for president – which left Hung as the only candidate when the KMT selected its nominee in June. According to CNA, the KMT believes Chu is its most viable candidate, based on the party's own polls. However, CNA points out that even a hypothetical Chu campaign still lagged behind Tsai by 10 percentage points in recent polls.