US, Japan Should Chart Post-TPP Vision: Senior Official
Washington and Tokyo urged to focus on three themes to boost economic ties.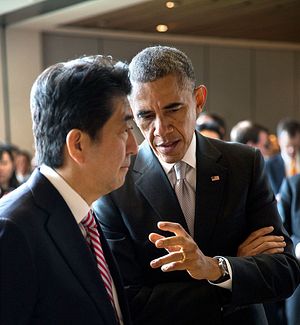 The United States and Japan should build on their strong alliance by charting an economic vision that goes beyond the Trans-Pacific Partnership (TPP), a U.S. senior official said Tuesday.
The United States and Japan are both signatories to the mammoth free trade pact, which groups 12 countries who make up around 40 percent of global GDP and was concluded earlier this month. Although the TPP represents a win for U.S.-Japan economic ties, Kurt Tong, the principal deputy assistant secretary of state at the Bureau of Economic and Business Affairs, told a conference at the Center for Strategic and International Studies that both countries need to chart a more ambitious path forward beyond the agreement.
Instead of going through the list of 37 existing government dialogues between Washington and Tokyo, Tong, who was previously the U.S. deputy chief of mission in Tokyo, instead proposed that the two countries focus on three themes moving forward: shaping global priorities; technology and entrepreneurship; and inclusive growth challenges.
"Let me instead suggest that there are three broad themes [moving forward]," Tong said.
On shaping global priorities, Tong argued that there were a range of international issues that could use greater U.S.-Japan collaboration, including reforming the Bretton Woods institutions, protecting the Internet from anti-democratic forces, and climate change. He also noted that global governance would be a particularly salient issue next year with Japan hosting the G7 and China hosting the G20.
"I think we can do more because any of these can benefit from greater cooperation between the United States and Japan," Tong said.
Turning to technology and entrepreneurship, Tong advised both countries to make sure that they cultivate the next generation of leaders – what he jokingly termed "bi-national geeks" – who are able to maintain the links between the two countries.
"As an American, I am particularly concerned about the declining cadre of people who are fluent in 'America' in Japan," he said. Tong also added that the people-to-people pillar of the U.S.-Japan relationship was the one that he worries about the most.
The third and final theme was what he termed inclusive growth challenges. Here, Tong suggested that the two countries had a lot to learn from each other as they addressed common challenges like ensuring that they keep their workers competitive in a changing economy. For example, he argued that the United States could learn a lot from Japan in terms of education performance while Japan could learn from the United States about the rural sector and agricultural development.
Japan, Tong suggested, was in a great position to become "an agricultural superpower in Asia" because agricultural development would play to its strengths – such as an abundance of water and cutting-edge technology – and would not require that much land or that many people, both of which Tokyo lacks relatively speaking.
Even as the United States and Japan pursue this vision, Tong emphasized, both countries should remember that their alliance is rooted not just in interests, but shared values, common purpose, and a mutual dependence on each other for their own success.
"The US and Japan are allies in every sense of the word," he said. "That should be the starting point to having this conversation."