What Did Pakistan Premier Sharif Actually Accomplish on His US Visit?
A look at a visit and what it means for Washington, Islamabad as well as other regional actors.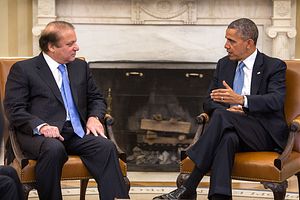 Pakistan's Prime Minister Nawaz Sharif just concluded an official visit to Washington. Despite a whole range of issues on which the U.S. and Pakistan do not see eye to eye, they managed to produce a surprisingly positive joint statement that, according to a State Department spokesman, highlighted their "strong and growing relationship." Kind words helped the visit, but two defined it: Kunduz and China.
Afghanistan, security, and counterterrorism operations remain central to both sides. The United States underestimated the strength and staying power of the Taliban. Kunduz showed that the Taliban can achieve large-scale dislocations that can last weeks (and longer, if it were left to the Afghan National Security Forces only). It also proved to both the Taliban and unity government the limits of a military solution. They are at a stalemate, and there is no real alternative but reconciliation. The Taliban need to be dealt with not just militarily but politically as well. Whether the unity government has been convinced of that remains to be seen.
Kunduz requires Pakistan to recalculate also. A friendly government in Kabul is unrealizable, and undermining Indian influence at the expense of Afghanistan's stability only sows instability in Pakistan. The troop extension has renewed American pressure on Pakistan. After the report of Mullah Omar's death, his successor, Mullah Akhtar Mohammad Mansour, embarked on a messy campaign to consolidate power. Before his authority vested, a return to negotiations would be fruitless. As PM Sharif noted during his visit, Pakistan "cannot bring [the Taliban] to the table and be asked to kill them at the same time."
But Pakistan can accelerate the run-up to talks by eliminating factions that might vie with Mansour for control—which would benefit Afghanistan, the United States, and Pakistan itself—and then push the Taliban to the table when the time comes. Pakistan's apparent recalcitrance to do so is aimed not at Afghanistan, but at India and Indian interests in Afghanistan. Prime Minister Narendra Modi's preconditions for a meeting between the Indian and Pakistani national security advisers led to its cancellation. Pakistan's concerns about Indian influence gained legitimacy and stoked Pakistan's insecurities: that it was helping create an Afghanistan that was inconsistent with its strategic interests and abetting India's presence in and relationship with Afghanistan. Pakistan came to see the Indian "threat" as having doubled. Despite some hopeful signs earlier, relations on the subcontinent are back at square one.
This dynamic has created challenges for the U.S. policymakers hesitant to wade deeper into an assortment of regional disputes and rivalries. The decision to increase and extend the deployment of U.S. troops may prove unpopular, but President Obama has no more campaigns to run. If there is a silver lining, the decision confirmed U.S. regional interests and relations are not transactional in nature. This will influence negotiated outcomes in America's favor. (On the other hand, how the continued presence of U.S. and coalition forces might affect the reemergence of al Qaeda and the Islamic State's expansion in Afghanistan is an open and concerning question; the consequence of withdrawal is well known.)  Ultimately, peace cannot take hold without Pakistan's cooperation. At the same time, instability is not its fault alone—a nuance that is often overlooked and one that has made public diplomacy very difficult.
Adding to the complexity, internal deliberations are taking place within a changing strategic environment. China's pursuits are expanding, as is its influence. Pakistan serves as a critical bridge from the Middle Kingdom to the Middle East and is a strategic terminus in its own right. Iran has similar value for China. The same claim cannot be made in Kabul; China's infrastructure plans will circumvent Afghanistan, and without regional cooperation, it will be more likely to reprise its role as the unhappy host of Great Game politics. But this too affects Islamabad: instability in Afghanistan raises the risks of foreign investments in Pakistan, Chinese or otherwise. Peace has become indivisible.
Pakistan wants help resolving its longstanding challenges with India. Even minor progress on substantive issues would promote regional stability. China cannot provide the leverage to do so, nor would it necessarily be in its interests to advance India-Pakistan normalization; Pakistan is useful in balancing the U.S.-India strategic partnership. Consequently, Sharif suggested to an audience of U.S. senators that the U.S. was the "most relevant" third party to help mediate on Kashmir. The White House acknowledged the issue in the joint statement (which noted the importance of "resolving all outstanding territorial and other disputes, including Kashmir").
Perhaps more irritating to New Delhi was the U.S. overtly noting the complexity Pakistan faces in combating domestic militancy while subtly referencing a potential Indian role in the same: Sharif reportedly shared information on India's alleged activities in Pakistan during his meeting with Secretary Kerry. The joint statement, which came out later, recommended that the South Asian neighbors work together to "address mutual concerns of India and Pakistan regarding terrorism."
The U.S. advocates dialogue between India and Pakistan and refrains from further involvement. But at the very least, it appears that Washington understands that if it squeezes Pakistan, like Pakistan feels Modi is already doing from India as well as Afghanistan, then Islamabad will be inclined to cling to the Taliban. India may believe this inevitable, but it still took notice of the specific mention of Lashkar-e-Taiba and the Haqqani Network in the joint statement—the first time the outlawed groups have appeared in such. As far as symbols go, it is significant—signaling an opening in Pakistan to address Indian and U.S. security concerns.
Although a high-profile topic in the run up to Sharif's visit, the nuclear deal was a nonstarter. Outsized expectations were cut down during the official talks. Pakistan is interested in finding a path for admission into the Nuclear Suppliers Group, but not at the cost of its nuclear arsenal. Moreover, experiences from the 1980s demonstrate that swapping U.S. military hardware for Pakistani nuclear concessions is a temporary tradeoff aimed at Congress. Whether such a strategy is at work this time it is doubtful: Congress is opposed both to a military deal with Pakistan as well as to the expansion of its nuclear capability. It is likely though that discussions will continue, especially when Chief of Army Staff Raheel Sharif visits Washington next month.
In many ways, the visit was a minor success for both sides, as well as for Afghanistan and India. Yet the future of peace in the region remains uncertain.
Touqir Hussain, a former Ambassador and Diplomatic Adviser to the Prime Minister of Pakistan, is Adjunct Professor at Georgetown University and SAIS Johns Hopkins University, where he is also Senior Pakistan Visiting Fellow. He writes on South Asian security issues, Iran, and Afghanistan. David Silverman is an Associate Consultant at Manhattan Strategy Group. He has a Master's degree in Asian Studies from the Elliott School of International Affairs at George Washington University.