When Will North Korea's Next Satellite Launch Be?
A launch on October 10 looks unlikely, but we may not have to wait much longer.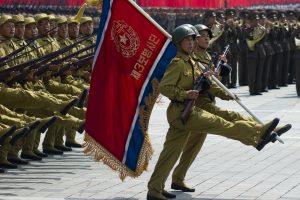 When it comes to predicting secretive North Korea's cycle of nuclear tests and rocket launches, observers are often left groping in the dark. Even so, the 70th anniversary of the founding of the ruling Workers' Party on October 10 probably offers as good a clue as any for gauging Pyongyang's next move.
Media and analysts have repeatedly pegged the period around the date as an obvious choice for the regime's next satellite and rocket launch, which government mouthpieces have trumpeted loudly. Just last Wednesday, the North Korean ambassador to the U.K., Hyon Hak-bon, reiterated the seeming inevitability of the rocket test, telling media in London, "We are prepared to launch at any time or any place."
While North Korea insists it is simply pursuing a peaceful space program, much of the outside world, including the United States and South Korea, believes it is more interested in developing ballistic missiles that could eventually carry nuclear warheads. In consideration of the overlap in technology between a potential weapon and a delivery vehicle, the UN Security Council tightened sanctions on the oft-censured regime in response to a similar satellite launch in 2012.
The next launch has been a long time coming: analyzing satellite imagery, 38 North, a North Korea-focused blog run out of John Hopkins University, reported in July that Sohae Satellite Launching Station had undergone significant upgrades. On Thursday, the Asahi Shimbun reported that a freight train had left from an arms factory in the direction of the launch site, sparking further speculation about timing.
The latest indications, however, are that the rocket test, which is certain to provoke further international censure, will miss the key anniversary date — whether or not it loosely coincides with the celebrations.
On Friday, Voice of America reported that analysts in Seoul saw a launch by the date as unlikely given the time required to make still necessary preparations.
The outlook supported an even earlier analysis of satellite pictures by 38 North, released on September 24. In it, Jack Liu and Joseph S. Bermudez Jr. described a launch on or before Oct. 10 as possible but unlikely, citing, among other things, the absence of any missile or space launch vehicle at the Sohae site.
"Going by past time frames for checking out the rocket once it arrives at (the) site then bringing to pad and fueling, I would look for something (suggesting preparations for a launch) closer to the 14th and 15th, but then again if this new rocket is larger then the last one the fueling of the stages could take longer," Nathan Hunt, an independent analyst who works with 38 North, told The Diplomat.
As so often with North Korea, nothing remains so predictable as its unpredictability.