Why Is a Kazakh Bank Suing a New York Developer?
Kazakhstan's BTA Bank and the city of Almaty are suing a New York real estate developer, claiming he helped launder money.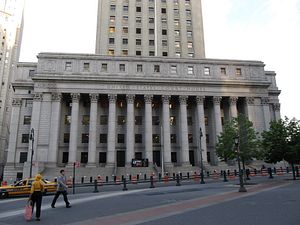 Earlier this week, Kazakhstan's BTA Bank joined the city of Almaty, Kazakhstan, in filing suit in a U.S. federal court in New York against developer Joseph Chetrit. According to Bloomberg, the bank and city allege that Chetrit "conspired to hide $40 million in real estate deals" to aid former BTA Bank chair Mukhtar Ablyazov, who is currently being held in France, and former Almaty mayor Victory Khrapunov, who is currently living in Switzerland.
The suit alleges that Chetrit helped Ablyazov and Khrapunov invest heavily in New York real estate, namely within condominium projects at the Manhattan Flatotel and the Cabrini Medical Center, via Chetrit's shell corporations. The lawsuit also claims that Khrapunov, in his tenure as mayor of Almaty from 1997-2004, swindled some $300 million from the city via cut-rate auctions and outright embezzlement through friends and family. Per the report, this filing stands as a response to Chetrit's company's earlier lawsuit, filed to determine whether the entity Chetrit Group LLC "should pay a disputed $21 million to the company allegedly controlled by Ablyazov and Khrapunov or to Almaty, which claims the money was stolen."
As it is, this isn't the first time the city of Almaty has used the U.S. court system to attempt to recoup claimed losses. Last year, Almaty filed suit in Los Angeles federal court, along many of the same lines – for instance, claiming Khrapunov had stashed his assets in property in Beverly Hills and Studio City, and that he had used the "loot[ed]" funds to purchase assets across Europe and the Middle East. While the Swiss government froze numerous accounts relating to Khrapunov, the suit was dismissed on Sept. 21, with a judge ruling that "parties shall bear their own fees and costs."
Ablyazov, accused of embezzling approximately $5 billion, and Khrapunov remain two of the most prominent opposition figures in Kazakhstani politics, but both, like President Nursultan Nazarbayev's former son-in-law Rakhat Aliyev, have seen their reputations tarred through allegations of money laundering and corruption. Indeed, allegations surrounding Ablyazov's dealings convinced a French court earlier this month to approve extradition of the former bank chair to Russia– from which he can be easily transited back to Kazakhstan. Ablyazov remains in France for the time being. One of his lawyers emphasized to The Diplomat that Ablyazov still has appeals to make.
Kazakhstan has already requested the Swiss extradite Khrapunov. As Kazakh analyst Marat Shibutov told IWPR, these are the two lone figures of any prominence in the country's opposition camp remaining at large. Khrapunov, for what it's worth, has published his allegations against Nazarbayev in book form, in which he discussed the "abusive privatization of the country's mineral resources and thriving corruption" – as well as "the stone-cold elimination of political opponents."
This post was updated to clarify Ablyazov's status.