Kazakhstan-US Convene Enhanced Strategic Partnership Dialogue in Astana
U.S. Assistant Secretary of State for South and Central Asian Affairs Donald Lu heads to Uzbekistan and India next.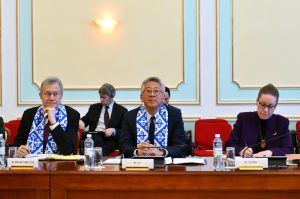 Mere days before Russian President Vladimir Putin is scheduled to visit Kazakhstan, a U.S. official passed through first, once again demonstrating the breadth of Kazakhstan's partnerships and the increased rate of diplomatic passage through Central Asia these days. 
U.S. Assistant Secretary of State for South and Central Asian Affairs Donald Lu is traveling to Kazakhstan, Uzbekistan, and India this week. In both Central Asian states, according to a pre-trip memo, "the U.S. delegation will reaffirm the United States' steadfast commitment to Kazakhstan's and Uzbekistan's sovereignty, territorial integrity, and independence."
In Astana, on November 6, Lu co-chaired the fifth Kazakhstan-U.S. Enhanced Strategic Partnership Dialogue (ESPD) with Kazakhstan's First Deputy Foreign Minister of Foreign Affairs Kairat Umarov. 
The United States and Kazakhstan have engaged in the ESPD since 2018. In January of that year, then-Kazakh President Nursultan Nazarbayev traveled to Washington, D.C. for a meeting at the White House with then-U.S. President Donald Trump. In December 2018 the first ESPD was held in Astana. The ESPD consists of a intergovernmental commission with three committee focused on political cooperation and security, trade and economic cooperation, and the "human dimension" – a turn of phrase that applies to a range of issues often flagged as "human rights." 
A joint statement released on November 7 after the latest EPSD highlighted in broad terms the annual meeting's content. The successful C5+1 Presidential Summit held on the sidelines of the U.N. General Assembly in September was noted by both sides, with the United States characterizing the format as "an important tool to address challenges together and to create a more prosperous and secure Central Asia."
Under the umbrella of political and security issues, the statement noted discussion of "regional geopolitical topics, counterterrorism, law enforcement cooperation, countering the synthetic drugs threat, and … non-proliferation." 
These are vague and par for the course. Ukraine was not mentioned specifically in the statement, but it's hard to imagine that wasn't among the "regional geopolitical topics."
Within the realm of economics, the statement mentioned priorities of "facilitating and diversifying trade and investment, cooperating to expand clean energy deployment and combatting the climate crisis, critical minerals and geology partnership, as well as science and technology cooperation." The Biden administration's Partnership for Global Infrastructure and Investment (PGI) was mentioned as a "potential avenue" to address the goal of enabling "sustainable development of transport rotes."
Here, again, specifics were not offered but likely touched on the Trans-Caspian Route, also called the Middle Corridor, which envisions boosting trade from Central Asia, Kazakhstan in particular, via the Caspian, Azerbaijan, Georgia, and on to Europe. Earlier this year, an EU study identified the Middle Corridor as providing the "most sustainable transport connections between Europe and Central Asia."
Finally, within the "human dimension" the two sides "highlighted political reforms, good governance, rule of law, and continued education exchange programs." Discussions, per the statement, touched on a range of issues from promoting media freedom and fostering "a resilient civil society" to less sensitive but nevertheless important issues like the protecting the rights of people with disabilities and combatting human trafficking. 
The next ESPD is set to be held in Washington in 2024.
Lu's next stops include Uzbekistan and India. In Uzbekistan, he will co-chair another partnership dialogue, the U.S.-Uzbekistan Strategic Partnership Dialogue (SPD). Lu met on November 7, after arriving in Tashkent, with Saida Mirziyoyeva – assistant to Uzbek President Shavkat Mirziyoyev, and also his daughter.
In India, Lu will participate in the U.S.-India 2+2 Ministerial Dialogue, where the U.S. secretaries of state and defense, Antony Blinken and Lloyd Austin, will meet with their Indian counterparts.