Will Indonesia Buy French Stealth Submarines?
Jakarta is interested in bolstering its deterrence capabilities.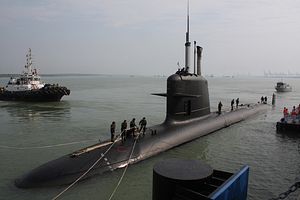 Indonesian defense officials have expressed interest in purchasing French-built Scorpene-class 1000 diesel-electric attack submarines (SSK) IHS Jane's Navy International reports.
Representatives of the French shipbuilder DCNS, the company offering the boats, confirmed Indonesian-French government-to-government talks at this year's Pacific 2015 International Maritime Exhibition currently taking place in Sydney, Australia.
"The talks are going on at the government-to-government level, mostly to discuss the needs of the Indonesian Navy," according to a DCNS representative interviewed by IHS Jane's Navy International.
"So far, what the Indonesians have identified is the need for a complementary submarine fleet that can fill in the gaps of their new ocean-going submarines, and they are considering the Scorpene 1000."
The last time the Indonesian Navy received new submarines was in the 1980s with the delivery of two German Type 209/1300 diesel-electric attack submarines (known as Cakra-class in Indonesia), which subsequently underwent several major refits modernizing the subs' propulsion systems, detection and navigation systems, and new fire control and combat systems by Howaldtswerke-Deutsche Werft (HDW) and South Korea's Daewoo Shipbuilding & Marine Engineering (DSME), which is building Type 209 variants under license.
In December 2011, DSME was awarded a contract for the construction of three 1,400-ton Chang Bogo-class (a license-built variant of the 209) diesel-electric attack submarines. The boats are expected to be delivered between 2015 and 2016 with a commissioning date set for the first half of 2018. The subs will be equipped with eight weapon tubes for torpedoes and guided missiles and feature cutting edge electronic defense and radar signal detection systems.
According to Indonesia Navy officials, the country will need at least six submarines to secure its key maritime straits (Malacca, Sunda and Lombok). Among other things, the Indonesian government appears to be also interested in procuring a number of Russian-made Kilo-class attack submarines.
However, DCNS officials in Sydney think that the Scorpene-class 1000 SSK will be the ideal solution for Indonesia, given the country's geography. "The Scorpene 1000 is an especially suitable platform for the Indonesian Navy, given the country's archipelagic nature. he platform has been designed to operate … in shallow waters and is very difficult to detect due to the depths associated with littoral waters," one DCNS official said.
IHS Jane's Navy International describes some of the sub's technical specifications based on information provided by DCNS including a surface displacement of about 1,000 tons, a length of 50 meters, and a submerged speed of around 15 knots. Furthermore, the vessel's range is stated to be around 4,000 miles and can stay submerged for up to five days. Additionally, the French-made SSK  has a dive depth of over 20 meters and can fit a crew of 21 and up to six navy divers.