China Pledges New Military Aid to Cambodia
Beijing agrees to provide further assistance to one of its staunchest Asian partners.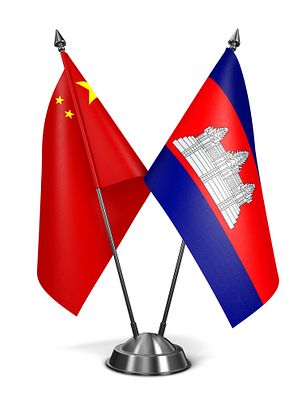 China and Cambodia agreed to boost their military ties following a meeting between their defense ministers on November 6 in the Cambodian capital Phnom Penh.
According to Cambodian Defense Minister Tea Banh in remarks after consultations with his visiting Chinese counterpart Chang Wanquan, China agreed to provide Cambodia with further military assistance to boost the capabilities of the Royal Cambodian Armed Forces.
Though specifics of the assistance remain unclear, Banh, who is also a deputy prime minister, indicated that it includes telecommunications and radio equipment from China to improve Cambodia's ability to communicate across all command headquarters. It also reportedly involves continued Chinese assistance in training and constructing military academies as well as increased exercises and exchanges.
Banh also reportedly confirmed that Cambodia had received a man-portable surface-to-air missile system (MANPADS) from China but said Phnom Penh was "not yet satisfied" with it. He also indicated that Cambodia was looking for longer-range hardware beyond the shoulder-fired surface missiles that China had already delivered. No further details were given, however, about the types of equipment the Southeast Asian state is seeking.
The new Chinese assistance to Cambodia will further deepen a relationship that provides Phnom Penh with much-needed boosts to its capabilities and gives China a strong Asian partner that supports key Chinese initiatives and positions. According to Xinhua, Banh also said that Cambodia appreciated the security concept and cooperation initiatives proposed by China and firmly supports China's policy and proposals on the South China Sea issue. To many close observers, the most vivid illustration of this "firm support" came in July 2012 when an ASEAN summit held in Phnom Penh failed to issue a joint communique for the first time, an event some attributed to Cambodian officials being pressured by its largest trading partner and investor on the South China Sea (See: "ASEAN's Soul Searching After Phnom Penh").
Just last month, Cambodia's prime minister Hun Sen was also the keynote speaker at the Xiangshan Forum –  China's newly upgraded security forum, which some characterize as its answer to the Singapore-hosted Shangri-La Dialogue (See: "China, Cambodia Boost Cooperation During Hun Sen's Visit"). As I noted then, Hun Sen's visit to China, which also included a meeting with President Xi Jinping, saw the inking of some significant new agreements.
The new assistance also cements China's position as Cambodia's largest donor of military aid. As I noted in an earlier piece, Beijing's military ties with Phnom Penh have been strengthening over the past few years (See: "China Just Gave Cambodia's Military a Boost"). In 2013, Cambodia bought 12 Harbin Z-9 helicopters using a $195 million Chinese loan. In February 2014, it received 26 Chinese trucks and 30,000 military uniforms. The Chinese-funded Infantry Institute in Kampong Speu province – reportedly China's first attempt to build a large-scale facility of that kind in Southeast Asia – is also often cited as one of the clear demonstrations of Beijing's overwhelming influence in Cambodia.