Why China's New Cambodia Military Boost Matters
Beijing's recent assistance once again spotlights the strengthening defense ties between the two countries.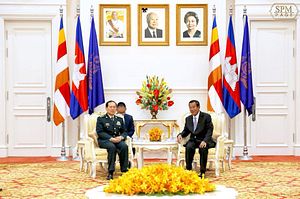 This week, Cambodia revealed that China had given it yet another round of military assistance as part of a visit by its defense minister to the Southeast Asian state. The move represents just the latest effort by both sides to boost their defense ties in 2018 as they commemorate 60 years of their bilateral relations and Cambodia moves toward elections next month, which represents a major test for the ruling party.
As I have noted before in these pages, Cambodia has been forging closer ties with China for decades, with Beijing being its largest donor of military aid and asking few of the human rights questions to the ruling Cambodian People's Party (CPP) under Prime Minister Hun Sen that some Western countries have. Closer bilateral ties work for both sides: they provide the Royal Cambodia Armed Forces (RCAF) with much-needed capability boosts to shore up the country's security and give China a strong Asian partner that supports key Chinese initiatives and positions from Taiwan to the South China Sea.
This year is a significant year for bilateral ties, with both countries commemorating 60 years of bilateral ties and Cambodia heading into a general election. So it is little surprise that we have seen both sides play up the defense side of the relationship as they have other realms, with periodic dispatches of assistance from Beijing as well as the holding of interactions such as military exercises (See: "China-Cambodia Defense Relations in the Spotlight with Military Drills"). The development fits into a broader pattern where the CPP, facing arguably its toughest test yet at home, has decided, at least for now, to continue to advance military ties with China, who is happy to do so without asking too many questions, while cutting off or downgrading certain aspects of those relations with certain Western countries who may ask too many (See: "Why Did Cambodia Just Downgrade Military Ties with the US Again?").
This week, China-Cambodia defense ties were in the spotlight again this week when Chinese Defense Minister Wei Fenghe paid a five-day visit to Cambodia that kicked off over the past weekend. Wei's visit was highly anticipated, with Cambodian defense officials including Defense Minister Tea Banh publicizing it weeks earlier and local media outlets suggesting that there could be an unveiling of a new defense cooperation agreement between the two countries.
Wei's trip did see both sides play up their defense ties and announce further efforts to strengthen the relationship. Wei met with several top Cambodian officials, including Tea Banh and Prime Minister Hun Sen, and visited Brigade 70 – a notorious unit within the Royal Cambodian Armed Forces (RCAF) that is charged with important responsibilities including leadership protection and has long been dogged by allegations of right violations and shadowy and even illegal activities. In those meetings, the two countries extolled the value of Beijing's assistance to Cambodia. Wei even attended the launch of an exhibition highlighting the various aspects of military cooperation between the two countries in Koh Pich, which also included several Chinese military vehicles.
But of the developments that took place during Wei's visit, the one that got the most headlines was unsurprisingly the announcement that Beijing had pledged yet another round of military aid to Cambodia. While this has in fact become almost an expected outcome with these visits over the past few years, additional scrutiny was on this round of assistance since it came weeks before the holding of Cambodia's elections and just after the United States had imposed additional restrictions on Cambodia (See: "The Truth About US-China Competition in Cambodia"). Banh told reporters following his meeting with Wei that China had offered what he characterized as a $130 million package.
No further details were issued by either the Chinese or Cambodian sides. Cambodian defense spokesman Chhum Socheat offered few additional specifics other than noting that the funding constituted "additional grants… for the military sector." And as is typical with these sorts of military aid by Beijing to Phnom Penh, no details were provided on how the assistance would be used.
What was less in the headlines but arguably far more consequential was discussions by both sides on how to further strengthen their defense ties in the future. Though few details were disclosed on this front as well, among the developments in the discussion were Cambodia hosting the Chinese People's Liberation Army Navy for exchanges and a continuation of Exercise Golden Dragon into 2019.
Additionally, according to Khmer Times, Lieutenant General Mao Sophan, the commander of Brigade 70, also said he had asked Wei for unspecified additional assistance for counterterrorism special forces in 2019, as well as machinery and equipment to clear 17,000 hectares of land in Kampot province to use as training ground for live-fire drills. Given the aforementioned notoriety attached to Brigade 70 and the scrutiny that has brought from some external actors, those developments are significant.
Cambodian officials have been careful in terms of how they have messaged this new round of assistance, which is not surprising since it comes right before the elections. And as we have seen in the past in China-Cambodia defense ties, more will also become clearer as future engagements take shape in the months that follow, including what commitments are actually followed through on and how Cambodia plans on using the assistance it has received. But the developments of the last few days have clearly reinforced the high level of continued activity occurring in this realm of the relationship between the two sides.