China Seeks to Woo ASEAN Through Singapore
China continues to hope its economic offerings can mend its relationships in Southeast Asia.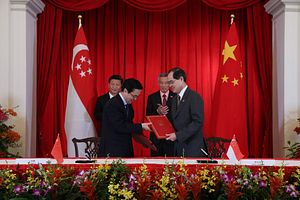 Chinese President Xi Jinping wrapped up his brief tour of Southeast Asia on Saturday, after spending two days each in Vietnam and Singapore. Xi's stop in Singapore was largely overshadowed by the historic meeting between Xi and Taiwan's President Ma Ying-jeou at the Shangri-La Hotel on Saturday. But Xi's trip to Singapore wasn't all about cross-strait relations; rather, it was part of Xi's attempt to mend China's image in the Southeast Asian states – many of which have concerns over China's actions in the South China Sea.
While Singapore is not a claimant in the South China Sea disputes, the city-state has a vested interest in making sure the maritime tensions don't spill over to poison diplomatic relations among the Southeast Asian states and China. Along with Indonesia, Singapore has tried to play the role of neutral mediator, but often found its efforts blocked by China's insistence that the disputes can only be handled bilaterally. Singapore has continued to raise its concerns about the disputes, with Prime Minister Lee Hsien Loong warning in his remarks at this year's Shangri-La Dialogue that a new approach is needed. "If the present dynamic continues, it must lead to more tensions and bad outcomes," Lee said.
China, meanwhile, saw Xi's visits to Vietnam and Singapore as a chance to remind the region of the fruits of cooperation with China – to display the carrot, rather than the stick. Vice Foreign Minister Liu Zhenmin told reporters at a pre-trip briefing that Xi's visits to Vietnam and Singapore would "be a big boost to China-ASEAN ties," according to Xinhua. Liu pointed out that Singapore is currently the coordinator for China-ASEAN relations, and said the China-Singapore relationship can serve as a model form China-ASEAN ties.
Xi's visit is well-timed, as the two countries are celebrating the 25th anniversary of the establishment of diplomatic ties. During the visit, Xi met with Lee as well as Singaporean President Tony Tan Keng Yam and delivered a speech at the National University of Singapore.
The visit had several deliverables, including an agreement by the trade ministers of both sides to launch negotiations to upgrade the existing bilateral free trade agreement between China and Singapore. According to Xinhua, the two sides agreed to "work towards the completion of the negotiations by 2016."
China and Singapore also agreed to cooperate on their third government-to-government project, the "China-Singapore (Chongqing) Demonstration Initiative on Strategic Connectivity." According to the Straits Times, the Chongqing project "is envisioned as a joint modern services demonstration zone in Chongqing…  as well as an integrated logistics center." The previous two government-to-government projects are an industrial park in Suzhou (founded in 1994) and the Tianjian Eco-City (2008).
On a broader level, China and Singapore agreed to reframe their relationship as "a partnership of all-round cooperation keeping with the times." Xi also used his address at National University of Singapore to promote his broader vision for China-ASEAN relations, hoping to entice the Southeast Asia states to take advantage of the economic opportunities presented by China. Xi especially pointed out that China's "One Belt, One Road" project starts from China's immediate periphery, and could be an opportunity for neighboring countries.
On the South China Sea, Xi emphasized that the islands have been Chinese territory since ancient times, though other countries had "illegally" occupied some features. He said that China's government has a responsibility to safeguard the country sovereignty and maritime rights.
However, Xi also attempted to strike a softer tone, saying that China will never threaten navigational freedom in the area. "There has been no problem with maritime navigation or overland flights, nor will there ever be in the future," Xi said. Xi added that maintaining peace and stability is the "starting point and ultimate purpose" of Beijing's South China Sea policy, and said that China has confidence in its ability to work with ASEAN to those ends.
Maintaining peace and stability as the foundation for continued economic development is "the biggest interest of Asian countries," Xi said. "Non-Asian countries should understand and respect this, and play a constructive role." Xi proposed a vision for Asian relations wherein Asian countries work together based on a common sense of Asian identity. "We should never let animosity divide us," Xi said. Xi has made similar calls for Asian unity before, but admitted in this talk that security issues remain "very complicated." Security cooperation is still far behind economic cooperation, Xi said.
Despite that admission, China still seems to see increased economic cooperation as its ticket to an eventual solution to security issues, including the South China Sea disputes. Xi stressed Asia's continued need for growth – and China's willingness to allow other countries to take a "free ride" on China's "express train" of economic development – as the key to creating a peaceful, stable Asia.
That sort of rhetoric is not new, which is exactly the problem: China's economic carrots no longer seem to be enough to make ASEAN partners – including Singapore and Vietnam – overlook security-related issues, particularly the South China Sea. If this current gambit to shore up China-ASEAN ties doesn't succeed in tamping down tensions in the region, what is China willing to do next?