China's Potential Pitfalls #4: Splittist Forces
How separatists in Tibet, Xinjiang, and Taiwan could affect China's future.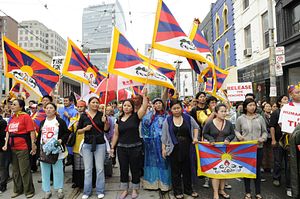 After enjoying rapid development for nearly 40 years, China is at a turning point in terms of both economic growth and social development. In this series, Dr. Xue Li examines the five most critical challenges and potential pitfalls China faces today. See his previous pieces on Pitfall #1, Pitfall #2, and Pitfall #3 as well.
China's problem with splittist forces is related to the issue of core values, but it is not completely the same thing. China has two kinds of splittist forces: splittist forces in mainland China (i.e. advocates for "Xinjiang independence" and "Tibet independence") and Taiwan splittist forces (Taiwan independence). Let's look at each of these issues briefly:
When it comes to "Tibet independence," we perhaps should seize the moment and start negotiations with the Dalai Lama. This would be to China's advantage since the Dalai Lama and the Chinese government have a long history of interaction spanning decades. They understand each other fairly well. The Dalai Lama's views are more moderate compared with the younger generation. For example, the Dalai Lama has not openly supported independence. But he is already 80 years old so time is running out.
The Xinjiang issue is more complicated, as we will see. The Chinese government has, for several years, taken a multi-pronged approach to "Xinjiang independence."  The government has resolutely attacked "Xinjiang independence" forces and actions; it has developed a "group defense and group solution" that aims to destroy even the first sprouts of Xinjiang separatism. The government has strengthened border controls to prevent "Xinjiang independence" forces from fleeing across the border while at the same time taking measures to facilitate the entry and exit of ordinary citizens. The government has invested in economic development in order to weaken the economic factors that favor the rise of the "three forces" — religious extremism, ethnic splittism, and violent terrorism.
The problem confronting us today is that the "three forces" are spreading outside Xinjiang to other Chinese provinces as well as beyond China's borders. However, the real threat to the long range stability and development of Xinjiang is religious extremism.  Religious extremists infiltrate the ethnic culture of the Uyghurs, thereby influencing the daily lives and worldview of ordinary people. They plot in this way to weaken local governments.
Finally, "Taiwan independence" is certainly a challenge. During Ma Ying-jeou's time in office, cross-strait relations were relatively stable and economic ties strengthened. However Ma's successor will very possibly be Tsai Ing-wen. Her spiritual leader is former President Lee Teng-hui, who has a reputation as a "Taiwan independence" advocate. In 1999, Lee even proposed the idea of "special state-to-state relations" to govern cross-strait relations. Tsai, as a council member, contributed to planning on the National Security Council and National Reunification Council.  Then, in 2002, President Chen Shui-bian in 2002 proposed the idea of "a country on each side of the Taiwan Strait" and Tsai, as chair of the Mainland Affairs Council, made important contributions.
Tsai is a knowledgeable person, a strategic thinker who believes in "Taiwan independence" who will certainly show that she is inferior to none of her male colleagues. We should not lightly assume that she has changed her political views because of words spoken during an election campaign. Any move toward Taiwan independence would cross the mainland's red line and could spark military action — which would severely damage China's foreign trade and economic situation.
Dr. Xue Li is Director of the Department of International Strategy at the Institute of World Economics and Politics, Chinese Academy of Social Sciences. Translation courtesy of Gao Dawei.