Did China Try Restricting US Bombers in the South China Sea?
Two U.S. bombers were contacted by Chinese air traffic controllers over the South China Sea, but details are murky.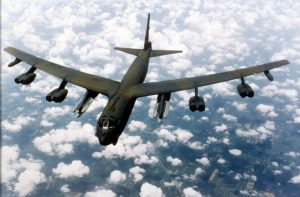 On Thursday, U.S. officials confirmed that two U.S. B-52 Stratofortress long-range strategic bombers were contacted by Chinese air traffic controllers earlier this week while flying over the South China Sea, near disputed islands. Reuters reports that the U.S. bombers continued undeterred.
The report comes at a time of heightened tensions between the United States and China after the U.S. Navy carried out a freedom of navigation patrol near a Chinese man-made island. The B-52s were reportedly "in the area" of the Spratly Islands and there are conflicting reports regarding whether their passage took them within 12 nautical miles of Chinese outposts in the Spratlys.
Statements from Commander Bill Urban, a spokesman for the U.S. Department of Defense, suggest that the mission was a routine transit flight. "The B-52s were on a routine mission in the [South China Sea]," he said. "We conduct B-52 flights in international air space in that part of the world all the time," Peter Cook, another Pentagon spokesman, told Reuters.
According to Reuters, Urban confirmed that the B-52 bombers did not enter the 12 nautical mile zone around any Spratly features occupied by Chinese. The United States does not take a position on the sovereignty of features in the South China Sea, but under international law, some of these features may be entitled to a 12 nautical mile territorial sea and airspace.
A separate report by The Hill says that a U.S. official noted that the B-52s did make "one pass" within 12 nautical miles of China's artificial islands. Specifically, The Hill cites an official as noting that the B-52 flight was a "freedom of navigation operation." No Pentagon official has made a public statement confirming this as of yet and the conflicting reports may raise further questions about the Obama administration's effectiveness in communication the extent of U.S. freedom of navigation operations in the South China Sea. (Muddying matters further, Reuters went to the trouble of issuing a correction that "Corrects headline and first paragraph to say bomber flew near, not over, islands.")
Wednesday's report is oddly reminiscent of a story from November 2013, when the U.S. Air Force flew two B-52 bombers through China's then-newly declared air defense identification zone (ADIZ) in the East China Sea. However, in this case, it is unclear if Chinese ground controllers were actually requesting that the U.S. bombers alter course or state their intent.
Nothing the Reuters report suggests that the Chinese air traffic controllers were doing anything particularly nefarious or limiting. Of course, there may be a degree of omission here, but all we know so far based on comments by Cook and Urban is that the B-52s were merely contacted by Chinese ground controllers. Meanwhile, The Hill notes that a U.S. official said that the bombers explicitly avoided complying with a Chinese request to "get away from our islands."
Unless these Chinese air traffic authorities requested that the B-52s "go away quickly" or suggested that the bombers were entering a Chinese "military alert zone," as Chinese ground controllers in the Spratlys did to a P-8A Poseidon surveillance aircraft in May in a highly publicized video, then there is little to suggest that this incident is an aberration. Air traffic controllers may communicate with military aircraft for reasons of navigational safety.
Additionally, U.S. warships and military aircraft have established protocols for interacting with their Chinese military counterparts. Based on current reports, what these U.S. bombers experienced may be entirely within the ambit of existing protocols. Of course, the devil is in the details here — as it almost always is when it comes to the South China Sea. Unfortunately, public details on the circumstances surrounding the B-52 incident remain slim.
There has been some consternation in the United States and in Southeast Asia that China's island-building activity in the Spratlys could be a preparatory step for the imposition of a formal air defense identification zone. With its ambiguous "nine-dash line," China claims nearly 90 percent of the South China Sea.
In October, a Philippine justice, speaking in Washington, D.C., suggested that China was already enforcing a quasi-ADIZ in the South China Sea. "They are in fact implementing an ADIZ over the Spratlys now," said Antonio Carpio, a senior associate justice of the Philippines Supreme Court.
Indeed, part of the reason U.S. freedom of navigation and overflight patrols are important is because territorial sea claims in the Spratlys and elsewhere in the South China Sea could disrupt international civilian and military aviation in the region.