Drug Use, HIV and a Harm Reduction Model for Northern China
China's Yunnan province has shown how to deal with rising addiction and the spread of HIV.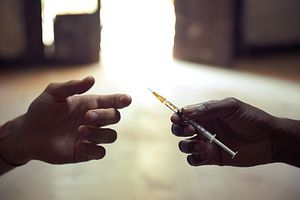 North Korea and China have had a strong, unique, bond since the creation of the PRC and the DPRK, starting with Korean volunteers fighting alongside Communist forces during the Chinese Civil War and becoming even stronger after the CCP intervened during the Korean War on behalf of the North, preventing DPRK leader Kim Il Sung from being overthrown. This bond, once kept strong by a shared communist ideology and system, is now mostly maintained by strategic concerns and the need to maintain a buffer between China and U.S. allied South Korea. This relationship comes with many costs for China, including the alarming rate of North Korean drugs being smuggled into Northeast China through the DPRK-PRC border.
The effects of North Korean drug smuggling are most acute in Jilin province, including the Yanbian Autonomous Prefecture where many ethnic Koreans live. For example, in 1991, there were only 44 registered drug addicts in the Yanbian Autonomous Prefecture, but by 2010, there were 2,090. In Jilin Province, there are more than 10,000 registered drug addicts, but actual numbers are estimated to be 5 or 6 times higher. The rising rate of addiction is not a risk only for the users, but for the entire community due to the link between the use of drugs and the spread of HIV. This is because of a correlation between the use of synthetic drug use and risky sexual behaviors.
Methamphetamine use increases sexual performance and pleasure, but also lowers inhibitions, and has spread to commercial sex workers and their clients. There is a risk that those who engage in commercial sex or sex work will pass on sexually transmitted diseases to their partners, and spread the disease into the wider population. In Jilin province, signs of this effect are already present; the province has experienced a yearly increase in the rate of HIV positive cases since 1994. In 2010, there were 1,477 reported HIV infections, and sexual transmission accounted for 93.4 percent of those infected with HIV.
Fortunately, there is already a Chinese example, from Yunnan province, of how to confront this problem effectively. The first reported case of HIV in China was in Yunnan province in 1985, and from 1989-2004 Yunnan had the highest rate of HIV infections in China. Yunnan province is in Southwest China and borders Myanmar, Laos, and Vietnam, in region known as the Golden Triangle for its drug production. It is estimated that 60-70 percent of drugs in China enter from this region.  Initially, the HIV cases in Yunnan were concentrated among intravenous drug users (IDU) near Ruili City; however, over time HIV spread geographically and to the general population through sexual transmission.
In Yunnan province, drug use and risky sexual behavior were highly correlated during this time. A 2002 study found that in Yunnan 82 percent of drug users reported having sex with more than one partner, compared with only 18 percent among the rest of the population. At first, the government response to the spread of HIV focused on strengthening laws on prostitution and illegal drug use, as well as allowing authorities to isolate HIV positive individuals. However, this approach did not stop the spread of the disease. Attempts to contain HIV positive individuals and punish high-risk behavior increased the incentive to conceal these behaviors, or the disease, from authorities.
After the failure of early attempts to contain HIV, officials in Yunnan turned to harm reduction and preventive policies to deal with the public health problem. Examples of these programs included needle exchange programs and promotion of condom use and health education for commercial sex workers. Another approach involved cooperation with NGOs. Because of the stigma of HIV, and the fear of punishment, NGOs can be more effective at reaching out to HIV positive individuals, or those engaged in high-risk activity. In 2014, the Yunnan provincial government allocated 1.5 million yuan ($235,000) to NGOs to promote education and provide medical services to address HIV issues.
Yunnan province and Jilin province are similar in that both border drug-producing regions, and both have seen an increase in drug use and sexually transmitted diseases. Yunnan province's harm reduction approach to HIV and drug use was ultimately more successful than its original police-oriented methods, but it was too late to stop the spread of HIV to the general population. Jilin should learn from Yunnan's previous experience, and apply the lessons of Yunnan's harm reduction approach by targeting high-risk populations, including drug users and commercial sex workers. This will require cooperation between NGOs, the police, and high-risk communities, as well as the building of trust between all groups. In China, this can be a difficult task to achieve, but without police cooperation high-risk populations will not participate in NGO-sponsored harm reduction programs for fear of being arrested. If this trust can be built, it will be easier to track those at risk and give them the tools and knowledge to address their addictions and prevent risky sexual behavior, slowing the spread of HIV.
Leon Whyte is a graduate of the Fletcher School of Law and Diplomacy at Tufts University. His research interests include transnational security and U.S. alliances in East Asia. You can follow him at @leon_whyte