F-35 Too Expensive: US Air Force Might Buy 72 New F-15 or F-16 Fighter Jets
The U.S. Air Force is contemplating adding 72 F-15, F-16 or even F-18 fighter aircraft due to low F-35 production rates.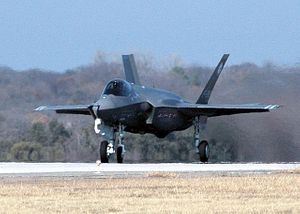 The F-35 Joint Strike Fighter might not be produced in sufficient numbers to maintain the U.S. Air Force's current operational capabilities due to budgetary constraints, according to Aerospace Daily & Defense Report. As a result the service is considering filling the capabilities gap with 72 Boeing F-15s, Lockheed-Martin F-16's, or even Boeing F/A-18E/F Super Hornets.
"F-15s and F-16s are now expected to serve until 2045, when an all-new aircraft will be ready, and plans to modernize F-16s with active electronically scanned array radars and other improvements are being revived," the article states.
U.S. Air Force officials and industry officials revealed as much at the Defense IQ International Fighter Conference, which took place November 17-19 in London. The U.S. Air Force "is struggling to afford 48 F-35s a year" for the first years of full-rate production a senior Air Force officer told Aerospace Daily & Defense Report.
Full rate-production is slated to begin in 2019 and the U.S. Air Force wants to buy 60 planes in 2020, and 80 F-35 per year after that. This year, the Air Force is to receive 28 F-35s, whereas in 2016 the number is slated to increase to 44. By 2038, the service wants to have 1763 F-35 aircraft in service. However, this procurement schedule might not be financially feasible for the Air Force.
"Consequently, F-15s and F-16s will serve longer and will outnumber F-35s and F-22s through the late 2020s," Aerospace Daily &Defense Report notes. The article furthermore explains:
The service is looking at a three-tier force, with 300 F-16s and some F-15s being modernized "to augment the F-35 and F-22 in a high-end fight" and others assigned to low-end operations, while the contemplated 72-aircraft buy (an Air Force wing) would sustain force numbers and provide additional modern aircraft.
Interestingly, a senior U.S. Air Force official revealed that "the last time we looked, this was more expensive than buying F-35s in bulk." However, he confirmed that the option of purchasing 72 aircraft is nevertheless still on the table.
The U.S. Air Force has already asked for cost estimates on procuring new F-15s and life-extension/upgrade options. "Also under consideration is a plan to augment U.S. Air Force electronic attack capabilities by fitting some F-15Es with a version of the Raytheon Next Generation Jammer pod," the article states.
Overall, the Pentagon is planning to procure 2,457 aircraft by 2038. Total acquisition costs are estimated at over $400 billion making it the U.S. military's most expensive acquisition program. Operation and support costs throughout the aircraft's lifetime are estimated at over a $1 trillion.
The supersonic fifth-generation F-35 Joint Strike Fighter exists in three variants:  The F-35A conventional takeoff and landing variant for the U.S. Air Force; the F-35B short takeoff and vertical landing variant for the U.S. Marine Corps, and the F-35C carrier-suitable variant for the U.S. Navy.