Is It Time to Put Away the BRICS?
Goldman Sachs, where the term originated, folded its BRIC fund into a general emerging market fund recently.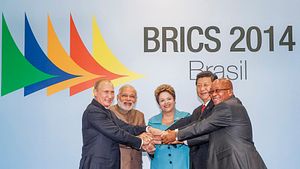 When then-chairman of Goldman Sachs Asset Management, Jim O'Neill, coined the term BRIC in 2001 to refer to the emerging economies of Brazil, Russia, India and China it made sense. The four countries looked poised to continue growing while growth among the G7 slowed. Fourteen years later the idea of the BRICs has expanded beyond the original acronym–to include South Africa in 2010–and conception–moving from a way to mentally and rhetorically link the most prominent emerging economies to an actual association which in 2014 launched its own development bank.
But as far as Goldman Sachs is concerned, financial realities have moved beyond the BRICs.
As Bloomberg reported this week, the prominent investment firm has decided to fold its BRIC fund into a general emerging market fund. In a September 17 filing with U.S. Securities and Exchange Commission that explains the decision and informs investors of the details Goldman Sachs says that in August its board "approved a reorganization" which would fold the BRICs fund into a broader emerging markets fund. The filing notes that although the "surviving fund" (in this case, the emerging markets fund) would invest in some similar or identical markets to the the BRICs fund, "including Brazil, Russia, India and China, the Surviving Fund is expected to invest in a more diversified universe of foreign and emerging markets."
Jorge Mariscal, the chief investment officer of emerging markets at UBS Wealth Management told Bloomberg that the "promise of BRIC's rapid and sustainable growth has been challenged very much for the last five years or so."
One of those challenges came from Ruchir Sharma, the head of emerging markets for Morgan Stanley Investment Management. In a 2012 article for Foreign Affairs–and also a 2012 book Rana Foroohar pointed to in Time–Sharma seems prescient:
As with previous straight-line projections of economic trends, however — such as forecasts in the 1980s that Japan would soon be number one economically — later returns are throwing cold water on the extravagant predictions. With the world economy heading for its worst year since 2009, Chinese growth is slowing sharply, from double digits down to seven percent or even less. And the rest of the BRICS are tumbling, too: since 2008, Brazil's annual growth has dropped from 4.5 percent to two percent; Russia's, from seven percent to 3.5 percent; and India's, from nine percent to six percent.

None of this should be surprising, because it is hard to sustain rapid growth for more than a decade.
For Goldman Sachs, the BRICs fund had been losing money for some time–"88 percent of its assets since a 2010 peak," according to Bloomberg. While the countries involved continue to make up a significant portion of the global population and economy, their growth is not as bombastic as it once was and differences among them remain. The BRICs took on a life of their own–moving from an acronym to an actual grouping with annual summits starting in 2009. They are bound together by values important to many emerging economies that ostensibly stand in contrast to the "West." In 2013, Russian President Vladimir Putin summarized it like this:
BRICS is a key element of the emerging multipolar world. The Group of Five has repeatedly affirmed its commitment to the fundamental principles of the international law and contributed to strengthening the United Nations central role. Our countries do not accept power politics or violation of other countries' sovereignty…BRICS members advocate the creation of a more balanced and just system of global economic relations.
Smiling, hand-holding summit photos aside, Brazil, Russia, India and China have different economies built on different fiscal and political realities. The grouping's dynamic growth was very much driven by China in the past decade, its slowing pace has rippled throughout the entire system. Russia is firmly in recession, dragged down by sanctions and depressed oil prices. Brazil, too, is in recession. India is doing the best of the bunch, with growth forecasted by the OECD to be at 7.25 percent, but faces its own economic challenges.
In 2001, O'Neill wrote "Whether you look at the future either in current US$ or PPP terms, relative positions of key countries in the world economy are changing." At the time, Brazil, Russia, India and China were on the rise, rapidly. But times, as they were in 2001, are again changing. Daniel Drezner, in his commentary on the news, writes that while the BRICs concept might have been "overhyped" for nearly 15 years, he's not in a rush to dismiss it entirely:
The New Development Bank is a tangible accomplishment. And the BRICS does share a genuine resentment about under-representation in traditional global governance structures. That resentment can animate the group's purpose for a while.

But if the BRICS has lost Goldman Sachs and the D.C. think-tank community [note: in October CSIS released a report asking Do the BRICS Still Matter?], then I think it's safe to say that its Golden Age has ended.

Rest in peace, fuzzy geoeconomic concept!