Myanmar's New Order Brings New Risks
Despite appearances, Myanmar's historic election will lead to an uneasy balance of power between the NLD and the military.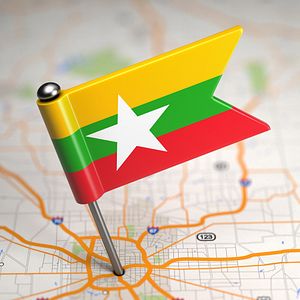 Aung San Suu Kyi's National League for Democracy (NLD) party is poised to sweep Myanmar's November 8 general election, a resounding result that if honored will fundamentally shift the country's politics towards more, though not complete, democracy after over five decades of direct and proxy military rule.
The NLD's win may also be interpreted as a de facto referendum for stronger ties with the democracy-promoting West, a diplomatic shift initiated by outgoing President Thein Sein's quasi-civilian government and widely expected to deepen under NLD rule.
Preliminary official results showed that the NLD won nearly 90 percent of the seats it contested, well above the 67 percent it needs to form a majority government. The incumbent military-backed Union Solidarity and Development Party (USDP) garnered less than 10 percent, a thumping defeat that signaled a popular desire to dispatch the military and its proxies out of politics. That wish, however, will be only partially granted due to constitutional provisions that reserve 25 percent of parliament's seats and grant control over the home, defense and border security ministries to the military.
Suu Kyi has stated her intention to rule "above the president", sidestepping a constitutional provision that bars anyone with foreign children from assuming the presidency. A bid to amend that provision was blocked earlier this year by the military's parliamentary bloc, a unified front that will have the numbers and spirit to thwart any future attempts by the NLD to change the charter. If Suu Kyi indeed governs from above a token president, analysts already anticipate a military challenge to her role, citing constitutional Article 58 of the charter which states the presidency "takes precedence over all other persons" in the country.
The generals have so far been gracious in defeat: Both Thein Sein and military commander Senior General Min Aung Hlaing have said they will honor the result. There were widespread fears that the polls would be rigged in the military's favor, similar to the sham 2010 elections the NLD boycotted and the USDP swept. An estimated 10,000 international election monitors and a massive foreign media presence mitigated that risk, though there were pockets of controversy over the integrity of advance votes in certain tight races and blocks imposed on independent observers from checking the vote held in many military camps.
The European Union, United States and United Nations all endorsed the process as a genuine expression of the popular will, while each fell short of endorsing the vote as completely free and fair. If handled peacefully, the democratic handover of power from the USDP to NLD will be held up as a major foreign policy success for many Western countries that had imposed economic sanctions against the previous ruling junta, but more recently goaded the generals with political and economic overtures to yield power to a genuinely elected government. UN Secretary General heralded the polls as "momentous", while U.S. President Barack Obama reportedly called Thein Sein on Wednesday to congratulate him on holding successful polls.
How future Western engagement is targeted and directed could be key to stability in Myanmar's new political order balancing democratic and military forces. While the military is seemingly set to cede its executive, legislative, and judicial dominance, the transition will open the way for more meaningful military exchanges with the United States. Until now, bilateral strategic consultations have been held away from prying eyes at U.S. military facilities in Thailand, according to sources familiar with the meetings. The United States is also set to fund a new "peace center," which will have more credibility to engage ethnic rebel groups with the NLD in power than its EU-financed predecessor steered by Thein Sein.
An anticipated flood of Western goodwill aid and investment will also underpin the transition. Analysts anticipate the U.S. will aim to quickly lift its now-suspended economic sanctions, although measures imposed against individuals involved in arms dealings with North Korea are expected to remain. Because the military and its associates dominate Myanmar's underdeveloped economy, any influx of foreign capital will inevitably pad their interests. While the military benefitted disproportionately from recent market-opening and privatization initiatives, Thein Sein's economic reforms largely failed to attract significant new investment, as wait-and-see investors sought more political clarity.
That blue sky moment, however, has not yet fully dawned. Suu Kyi said the NLD will not adopt a zero sum winner-take-all mentality, signaling to the military that an NLD government would not prioritize the politics of revenge, despite the decades of harsh persecution she and her party members faced under abusive military rule. On Wednesday, Suu Kyi sent invitation letters to Thein Sein, Min Aung Hlaing and parliament leader Shwe Mann to hold "national reconciliation" talks after official results are announced. It was not an entirely new gesture: In 2013, Suu Kyi surprised many observers when she told the BBC she was "very fond" of the army, an institution her independence hero father created, and hoped it would one day redeem itself for "terrible" deeds she left unnamed.
Indeed, top generals have much to lose from any backward-looking examination of the military's record. Rights groups hope that the NLD will pursue rule-by-law justice for the military's past abuses and atrocities, including brutal crackdowns on street demonstrators in 1988 and 2007, a massacre of NLD supporters that targeted Suu Kyi's motorcade in 2003, war crimes and crimes against humanity committed during various counter-insurgency operations, and persecution of ethnic Rohingya Muslims that Yale Law School analysis suggests may legally constitute genocide. Other reform advocates hope the NLD will expose, punish and where possible reverse past boondoggle state spending, including corruption in the multi-billion dollar construction of a new capital at Naypyidaw.
A NLD co-leader's reference to a Nuremberg-style tribunal in the aftermath of the party's landslide 1990 election win is often cited as the real reason that the military refused to step down from power and later annulled the result. While hopes run high for a new democratic era in Myanmar, the political reality is that Suu Kyi's NLD will be locked in a largely undefined power-sharing arrangement with the military that will likely constrain the NLD's ability to implement policies, effect change, and pursue justice. And as long as Suu Kyi professes to rule from above the presidency, the military will maintain the legal option of staging a coup in the name of safeguarding the constitution if the country's new political dynamic starts to spin beyond its control.