Outwitting Pakistan? India Offers Sri Lanka Its Newest Fighter Jet
India has offered its Tejas supersonic jet fighter to the Sri Lanka Air Force.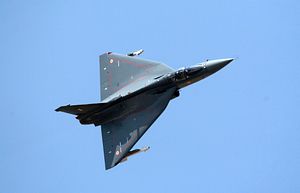 In an attempt to outdo its archrival Pakistan, which has offered its JF-17 fighter jet, India is trying to sell the Tejas Light Combat Aircraft to Sri Lanka, the Sunday Observer reports.
The Sri Lanka Air Force (SLAF) is looking to procure 18 to 24 new fighter aircraft to replace its obsolete fleet of Chinese license-built MIG-21 by 2017, although there have been debates within the country about whether the SLAF is in genuine need of a next-generation fighter aircraft.
The commander of the SLAF, Air Marshal Gagan Bulathsinghala will visit Pakistan next month, which has offered its jointly-developed Pakistan Aeronautical Complex/Chengdu Aircraft Industry Corporation (PAC/CAC) JF-17 Thunder combat aircraft.
In June 2014, there were media reports that Sri Lanka had already decided to purchase the Sino-PAK fighter jet, however, Sri Lankan officials were quick to deny that a decision had been made (See: "Is This Country the Sino-PAK JF-17 Fighter's First Customer?").
The fact that the JF-17 is a joint Sino-PAK venture has made the fighter jet particularly attractive to the SLAF given that it is already operating a number of Chinese aircraft, as I have written previously:
The Sri Lanka Air Force (SLAF) already operates some Chinese-made aircraft, including seven Chengdu F-7 (license-built MIG-21), nine Harbin  Y-12 turboprop military transport, plus one Chengdu F-7 and five Hongdu JL-8 jet trainers. Additionally, the SLAF has ordered two Xian MA 60 transport planes from China's Xi'an Aircraft Industrial Corporation.
India's Tejas Light Combat Aircraft is a supersonic, single-seat, single-engine multirole light fighter aircraft, which has been under development for the past three decades. It has been co-developed by the Aeronautical Development Agency in cooperation with Hindustan Aeronautics Limited (HAL).
As I reported before (See: "Surprise: India's New Fighter Jet Faces More Delays"), the Mark-I version of the Tejas fighter jet has been suffering from numerous technical problems including inadequate electronic warfare capabilities, a malfunctioning onboard radar system,  as well as reduced internal-fuel capacity among a host of other issues.
An improved version of the plane– dubbed Tejas Mark-IA- has rectified some of the technical shortcomings of the Tejas but HAL has not been able to ramp up the production rate of the aircraft and consequently fallen behind schedule in delivering new planes to the Indian Air Force.
Pakistan's indigenous aircraft industry is also not capable of keeping up with demands of the Pakistan Air Force for new planes and had to order an additional 110 JF-17s from China (See: "China Will Supply Pakistan With 110 New JF-17s"). The plane's manufacturer, Pakistan Aeronautical Complex (PAC), located west of Islamabad, says that it has the capacity to produce 25 aircraft per year.
Whether either country is actually capable of delivering aircraft on time and in the quantity demanded remains questionable.