US Announces Maritime Security Boost for Southeast Asia
White House highlights US efforts as Obama kicks off Asia trip.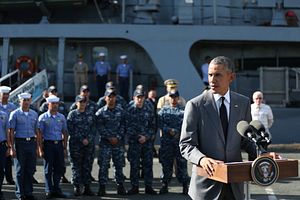 The United States is boosting maritime security assistance to Southeast Asia, the White House announced November 17 as U.S. President Barack Obama kicked off a weeklong visit to Asia for the latest round of summitry.
"We are increasing the maritime security capacity of our allies and partners, to respond to threats in waters off their coasts and to provide maritime security more broadly across the region," the statement said.
The statement is part of a broader rollout by the administration showcasing its ongoing efforts in its "rebalance" to the Asia-Pacific as Obama begins his ninth visit to the region and approaches his last year in office. As I had reported earlier, administration officials had told reporters last Friday to expect maritime security announcements during the Philippine leg of Obama's Asia trip where he is attending the Asia Pacific Economic Cooperation (APEC) summit (See: "Obama Philippines Visit to Focus on Maritime Security")..
In total, the statement said that the United States is committing $119 million in fiscal year 2015 (FY 2015) and will seek to provide $140 million in assistance the following year subject to appropriation, totaling over $250 million over two years.
While the funding amounts may seem small, the statement emphasized that the effort is not only focused on boosting capabilities, but developing necessary infrastructure and logistical support, strengthening institutions and enhancing practical skills. Maritime security assistance, the White House emphasized, will be coordinated with strong U.S. allies Japan and Australia and will be in line with previous efforts announced such as the Southeast Asia Maritime Security Initiative unveiled by Secretary of Defense Ash Carter at the Shangri-La Dialogue (See: "US Launches New Maritime Security Initiative at Shangri-La Dialogue 2015").
The statement mentions specific allocations for four key Southeast Asian states – the Philippines, Vietnam, Indonesia and Malaysia – three of which are claimants in the South China Sea disputes.
The Philippines, the only U.S. treaty ally amongst the four, unsurprisingly will continue to be the largest recipient of U.S. maritime security assistance, with a record $79 million in 2015 directed at building the training and logistical base for strengthening the Philippine military (See: "The Truth About Philippine Military Modernization and the China Threat"). As I noted in an earlier piece, U.S. President Barack Obama had announced in Manila that Washington would grant two new vessels to the Philippines (See: "US Gives the Philippines 2 New Vessels Amid South China Sea Tensions").
Vietnam, the other forward-leaning ASEAN claimant in the South China Sea disputes, will receive $20.5 million in FY 2016 subject to appropriation, a small increase relative to the $19.6 million in FY 2015. Washington is helping Vietnam bolster its maritime intelligence, surveillance and reconnaissance (ISR) and command and control within Vietnam's maritime agencies (See: "US, Vietnam Eye Deeper Coast Guard Cooperation"). It has also eased a lethal arms embargo which could be lifted fully in the future (See: "What's Next for US-Vietnam Relations?").
Assistance to Indonesia and Malaysia is still quite small by comparison. For Indonesia, almost $10 million is planned for FY 2016, a small dip relative to nearly $11 million for FY 2015. Assistance areas include boosting patrol capacity, ISR integration and maintenance capacity. There is also mention of supporting the Indonesian coast guard, though as I noted in a recent piece, some sources have suggested that this area of U.S.-Indonesia cooperation has been undermined  by vested interests (See: "What's Behind the Missing US-Indonesia Maritime Security Pact?")
Malaysia is slated to receive a boost in assistance to over $2 million in FY 2016 subject to appropriation relative to just $500,000 in FY 2015. Focus areas here include building maritime law enforcement training capacity and interagency coordination to boost maritime domain awareness (See: "Playing it Safe: Malaysia's Approach to the South China Sea and Implications for the United States"). More details could be unveiled when Obama lands in Malaysia for a round of ASEAN-led summitry this week as his discussions with Prime Minister Najib Razak are expected to touch on maritime security.
Overall, the aim of the maritime security boost, the statement emphasized, is to enable allies and partners to modernize their maritime capabilities in order to "address the evolving dynamics of the region." As I have noted repeatedly, while much attention is often focused on the South China Sea disputes, in reality Southeast Asian states face a range of complex threats in the maritime domain which include piracy, illegal fishing, and in some cases even lingering bilateral maritime disputes among themselves (See: "Why is Indonesia Building a New South China Sea Base?").