US, Cambodia Navies Launch Joint Military Exercise
CARAT Cambodia kicks off November 16.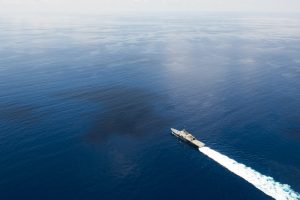 On November 16, the United States and Cambodia launched an annual military exercise with an opening ceremony held at the Royal Cambodian Ream Navy Base in Sihanoukville, Cambodia.
The sixth iteration of the annual Cooperation Afloat Readiness and Training (CARAT) Cambodia exercise is designed to address shared maritime security priorities, develop relationships, and enhance cooperation between the two navies. It is part of a series of bilateral naval exercises conducted by the U.S. Navy with partners now involving nine countries in South and Southeast Asia – Bangladesh, Brunei, Cambodia, Indonesia, Malaysia, the Philippines, Singapore, Thailand, and Timor-Leste (See: "US Eyes Expanded Military Exercises with ASEAN Navies"). The Royal Cambodian Navy (RCN) is one of the newer CARAT partners in the exercise series, which began back in 1995.
According to a statement by the U.S. Navy seen by The Diplomat, CARAT Cambodia 2015 will continue through November 20 and will involve approximately 200 U.S. sailors and 300 Cambodian sailors along with key assets. It will feature five days of shore-based and at-sea training events as well as professional symposia to share best practices in various areas including military law, military medicine, and aviation search and rescue.
In terms of assets, CARAT Cambodia 2015 features some notable firsts, Arlo Abrahamson, public affairs officer at the U.S. Seventh Fleet's Task Force 73 (which helps plan and execute these exercises), told The Diplomat. In particular, the U.S. littoral combat ship (LCS) USS Fort Worth will take part in CARAT Cambodia for the first time. The USS Fort Worth, along with Destroyer Squadron 7 staff and an MH-60R helicopter, will train with a flotilla consisting of two RCN Stenka-class patrol boats (Stenka 1134 and 1141) and one Coastal patrol vessel (PC 1108).
"This year USS Fort Worth will participate in CARAT Cambodia for the first time, presenting a unique opportunity for us to train hull-to-hull with the RCN on one of the navy's newest and most agile ships," said Captain H. B. Le, commodore of Destroyer Squadron 7 (DESRON 7) which supports U.S. exercises in the Asia-Pacific.
These firsts represent the growing complexity of CARAT Cambodia, the first dedicated exercise between the two navies in decades. CARAT Cambodia began with a basic port visit and training events in 2010. Other highlights this year include maritime boarding scenarios and a search and rescue exercise.
"CARAT enables us to develop strong relationships with our Cambodian Navy partners," said Rear Adm. Charlie Williams, commander of Task Force 73.  "Through persistent presence and relationships, we continue to make steady progress in increasing the complexity of our training and enhancing cooperation between our navies."
In an interview with The Diplomat published last month, Williams had stressed the importance of persistent presence and revealed that U.S. exercises in the Asia-Pacific would expand in 2016 (See: "US to Expand Military Exercises in the Asia-Pacific in 2016" and "Interview: The Future of US Military Exercises in the Asia-Pacific").