What Is the State of Afghanistan's Relationship with India?
The Diplomat speaks to Afghanistan's Deputy Foreign Minister on Kabul's relations with New Delhi and Islamabad.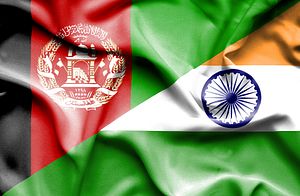 Last week, Hekmat Khalil Karzai, the deputy foreign minister of Afghanistan, went on a three-day visit to India. The visit was an attempt to rejuvenate the traditional bond between the two states after a period of chilled relations. However, not much is known about what transpired between Karzai and his Indian hosts. Karzai's visit comes a week after Afghan National Security Adviser Mohammad Hanif Atmar* traveled to New Delhi, and both meetings are considered preparation for Indian Prime Minister Narendra Modi's state visit to Kabul. The Diplomat's Sanjay Kumar spoke to Karzai to try to figure out what was actually discussed in New Delhi and the state of the current security situation in Afghanistan.
The Diplomat: How has your trip to India been?
Hekmat Khalil Karzai: I've had several meetings with senior level officials and politicians, in which I requested assistance and support from the Indian government. I have been assured that the Indian government will deliver on the issues we have requested.
The relationship with India cooled off last year as a result of Afghanistan's warming relations with Pakistan. Can Kabul be on friendly terms with both Islamabad and New Delhi at the same time?
I don't think we've cooled our relationship with India at all. There is a lot of emotion in our relationship, but our friendship will remain regardless. Can Afghanistan keep a good relationship with both India and Pakistan at the same time? Absolutely. I don't think our relationship with Pakistan has any impact on our traditional friendship with India. As a sovereign state, we expect to be able to maintain the same types of relationships as other countries. For example, many states are friends with both China and the U.S.A. at the same time. Why shouldn't we be allowed to have a strong relationship with both India and Pakistan? Both are very important for Afghanistan's stability.
To what extent is it true that Afghanistan wants to renegotiate its strategic relationship with India?
This is not true at all. We are strengthening our bilateral ties. We are still discussing the details of our strategic partnership, and we have nothing but consensus on both sides. We will continue to move forward in our discussions and continue to strengthen the ties between our two countries.
How concerned are you with the deteriorating situation between India and Pakistan these days? How does it impact Afghanistan's strategic interests?
You know, when the P5 and Iran started to talk, the country which was happiest with this development was Afghanistan. We knew that we would benefit from every level of that dialogue. Better relations between Iran and the West will benefit us politically, militarily and, most significantly, economically. In the same vein, the country that would benefit most from a better relationship between India and Pakistan is also Afghanistan. For example, it will create better opportunities for trade. We could and should be able to export our goods to India, through Pakistan. At the moment, there are certain political issues that prevent us from doing this. However, we are extremely optimistic that things will move forward in this regard.
Do you think that India's strategic interest in your country is also a cause for trouble for Afghanistan?
There has always been great- power rivalry in Afghanistan. For example, during the 19th Century, Afghanistan was a buffer zone between Russia and Britain. Despite this, Afghans have always tried to preserve our autonomy. At the same time we understand that each state has different interests. Our only expectation is that other powers should respect Afghanistan's sovereignty. They shouldn't tell us with whom we should or shouldn't have a relationship. Our greatest desire is that Afghans should be left to organize their own future.
Have you asked for additional military assistance from India?
The National Security Advisor of Afghanistan recently travelled to New Delhi. He had extensive talks with his Indian counterpart. The wish-list that Kabul has given to India has been discussed in quite a detail. Unfortunately, I can't tell you more than this.
What do Afghans expect from Pakistan?
The most important issue is the need to take action against terrorism inside Pakistan. We expect that Islamabad takes action against the different militant groups, including the Taliban, the Haqqani networks and other disturbing elements. We would like to make sure that they take the necessary steps to eradicate these threats. If they are unable to do so, then at least they should label them as terrorists.
The Taliban's recent occupation of Kunduz has raised some serious questions about Afghanistan's stability. What's your take on this?
The government is politically and militarily stable due to the fact that we have international partners present. We are constantly analyzing the situation. Our security forces are dealing with this threat. If you ask me whether we can prevent another Kunduz-style attack, I don't know. We have learnt from Kunduz and we will continue to work to stabilize the country.
Do you think that the failure of the Afghan national peace process will strengthen ISIS in Afghanistan?
That's hard to tell. At this stage, we are not moving in the direction of the peace process. Fierce battles are taking place between DAESH (ISIS eds.) and the Taliban throughout the country. In fact, it's not the strengthening of DAESH, but the actual confrontation between the two insurgent groups that is occupying Afghanistan's attention.
I have always criticized the international community's engagement in my country for focusing too much on the military aspects of the conflict. We've always believed that the end of the conflict would not be brought about by throwing money and guns at it. We've always believed in finding a political settlement. It's always been about reaching a deal with opposition.
*The name of Afghanistan's National Security Advisor has been corrected.