Why Was an Afghan Compressed Natural Gas Station 86 Times More Expensive Than Expected?
U.S. Special Inspector General for Afghanistan Reconstruction wants to know why, but the Pentagon has no answers.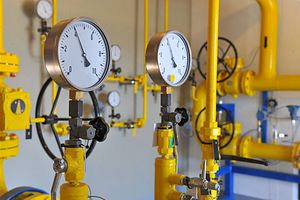 The U.S. Special Inspector General for Afghanistan Reconstruction (SIGAR), in its October 2015 report, found that the U.S. government spent nearly $43 million on a compressed natural gas (CNG) station in Afghanistan. SIGAR, a government watchdog agency set up to track overspending, inefficiency, malfeasance, and corruption in how U.S. taxpayer funds are spent in Afghanistan, added that a facility with similar specifications should cost around $500,000. Effectively, the United States managed to somehow spend 86 times the expected cost of the project in this particular instance in Afghanistan.
The project at the center of the SIGAR report was managed by the U.S. Department of Defense Task Force for Business and Stability Operations (TFBSO), which began operating in Afghanistan in 2009 with the mission of ameliorating various sectors of the country's economy. TFBSO had first been constituted in 2006 to carry out a similar mandate in Iraq. In 2011, Paul A. Brinkley, the then-director of the TFBSO in Afghanistan, described his group's task succinctly: "We do capitalism. We're about helping companies make money."
Of course, the implication of SIGAR's October 2015 is that someone certainly made a lot of money in Afghanistan off the Sheberghan CNG station project. When cost overruns estimates by a factor of 86, we're dealing with more than a rounding error. For the U.S. taxpayer, answers will be a distant hope at best. SIGAR notes that the Department of Defense has claimed it is "unable to provide an explanation for the high cost of the project or to answer any other questions concerning its planning, implementation, or outcome."
According to the SIGAR investigation, TFBSO awarded a $3 million contract for the construction of the station to a development firm called Central Asian Engineering. SIGAR cites an economic impact assessment that found that between 2011 and 2014, TFBSO spent $42,718,739 "to fund the construction and to supervise the initial operation of the CNG station." The breakdown, according to the assessment, comes down to "approximately $12.3 [million] in direct costs and $30.0 [million] in overhead costs."
According to John F. Sopko, the head of SIGAR, the CNG station was meant to test the hypothesis that CNG for Afghan consumer automobiles was commercially viable. Sopko adds that the pilot CNG station in Sheberghan, Afghanistan, where massive natural gas reserves have been found, was "part of a broader effort to take advantage of Afghanistan's domestic natural gas reserves and reduce the country's reliance on energy imports." CNG is widely used across the word and had become particularly popular as a pollution-reduction method in Afghanistan's neighbor, Pakistan, before shortages forced a phasing out of CNG-powered vehicles. Many major Indian cities feature hybrid vehicles capable of running on both petroleum and CNG.
CNG viability in Afghanistan faces a range of problems despite the presence of prominent natural gas reserves within the country. The high costs of natural gas transportation, both by pipelines and tanker trucks, combined with the high level of insecurity in the country's peripheries mean that foreign investment interest in the natural gas sector is quite low for the moment.