An Identity Crisis for South Korea's Opposition
A high-profile defection highlights the way personal politics stifle Korean democracy.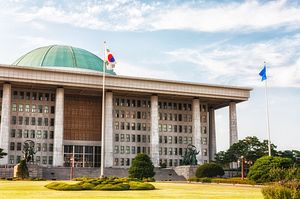 South Korea's main opposition social-liberal party is reeling (again) from intraparty factional struggle. Rebranded earlier this week "the Minjoo Party of Korea" (formerly New Politics Alliance for Democracy), the party is searching for a new identity and direction after high profile and popular assemblyperson Ahn Cheol-soo defected on December 13. With Ahn's departure, liberal party politics are set for a reconfiguration.
Ahn joined the NPAD in March 2014 as a co-chair; assemblyperson Kim han-gil filled the second spot — a combination of new and old. The party, technically new, represented a merger of the former main opposition Democratic Party and New Political Vision Party. Kim and Ahn, who promised provincial party nomination reform, among other things, would later resign their leadership posts in the same year after the party performed badly at the ballot box. Moon Jae-in, the leader of the so-called "pro-Roh" faction and the Democratic Party's candidate in the 2012 presidential election, would eventually take the reigns, replacing interim chairperson, Moon Hee-sang.
Since taking over the leadership position, Moon's authority and legitimacy have been under constant siege. Intraparty struggle and a lack of popular support emboldened ambitious independents and those with a reformist agendas; Ahn is one such figure. Spurred by Moon's proposal for a three-way merger between himself, Moon, and Seoul mayor Park Won-soon, Ahn decided to directly challenge Moon.
Displeased with the direction of the party, Ahn called for a party convention to resolve what he perceived to be a leadership problem. The reform-minded Ahn wanted to elect new party leadership and merge with Chun Jung-bae's People's Reform Party. (Chun is another former NPAD politician who left the party in March 2015). Ahn's call for a convention was an effective ultimatum to Moon: It was new leadership or else. Moon, uninterested in stepping down, held fast. Hence Ahn's defection.
In a Korea Times article on his defection, Ahn is quoted as saying, "There's a slim chance of winning the 2016 general elections and also achieving a change of government if the party goes on like [it is.]" Ahn is expected to create a new political party and will form a preliminary committee for its formation by January 10; he is expected to court younger politicians to join his party in preparation for next year's legislative election. Approximately 30 non-mainstream members of the main opposition are expected to jump ship.
Ahn's move may be contentious, but it is nothing new in the (short) history of democratic party politics in South Korea. Parties, especially those nominally left of center, are largely sustained by the charisma of popular individuals, not by predictable issue positions or programmatic policy platforms. While understandable, Ahn's reluctance to work with Moon and stay with the main opposition perpetuates an under-institutionalized system. Personal politics stifle Korean democracy; time and energy will be spent on resolving factional struggles within and across the several liberal parties. The losers will be South Korea's electorate.