China, South Korea Hold Maritime Talks
Plus, Pu Zhiqiang, gay rights in China, the China-Nepal border, and more. China links.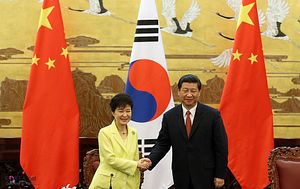 Time for your weekly round-up of China news:
On December 22, China and South Korea held talks on delimiting their overlapping exclusive economic zones (EEZs) in the Yellow Sea – the first such discussions in seven years. Chinese Vice Foreign Minister Liu Zhenmin traveled to Seoul for talks with his South Korean counterpart, Cho Tae-yul. Yonhap described the mood as "amicable," but quoted Cho as saying that "the negotiations are very difficult and important."
For more on the background for the negotiations – including the motivations for China to restart talks now – see my piece from November.
In China domestic news, rescuers have pulled out the first – and so far only – survivor from the Shenzhen landslide. Xinhua describes how 21-year-old Tian Zeming was buried under mud and debris for 67 hours before being rescued. Sadly, hope is fading for the remaining 75 people still believed to have been trapped by the landslide.
The trial of lawyer Pu Zhiqiang for a series of microblog posts served as a rallying point for free speech and human rights in China. The result was a mixed bag: Pu was convicted, but will get off without jail time thanks to a suspended sentence. For two competing (and conflicting) narratives on the trial, see Xinhua's official news release on the verdict, versus Jane Perlez's take in the New York Times.
However, one Chinese man still sees hope in legal activism in China – the Wall Street Journal's China Real Time blog has the story of Sun Wenlin, who is hoping to win a blow for gay rights in China thorough the courts. Sun has filed a complaint arguing that the legal definition of marriage as between a "husband and wife" doesn't actually preclude homosexual marriage. He's optimistic that his suit will have an impact: "I believe Chinese society will change because of our actions."
Moving back to foreign relations, the Nepal Times has a feature on a once-bustling border checkpoint between China and Nepal, which has remained closed since the earthquake in April 2015. "Container trucks used to travel back and forth across the Friendship Bridge all day long," write Xiaotong Xu and Siran Liang. "This week, there was only one Chinese border guard and one Nepal Armed Police facing each other at the bridge. The Chinese customs and immigration offices at Zhangmu are closed." Residents aren't sure why the border remains closed – a mystery that will perhaps be discussed when Nepali Deputy Prime Minister and Foreign Minister Kamal Thapa visits Beijing starting today.
Finally, a news story that embodies China's push to become a leader in innovation and the high-tech sector: Xinhua profiles a Chinese technology firm, iFLYTEK, that wants to create an artificial intelligence capable of earning top scores on China's infamous university admissions exam, the gaokao. Taking the math and science portions of the test are relatively easy for a robot – but this group has taken on the more sizeable challenge of essay-writing on the language and history sections.