India Cleared Purchase of Russian S-400 Missile Defense System
The Defense Acquisition Council has approved the purchase of five units of the advanced missile defense system.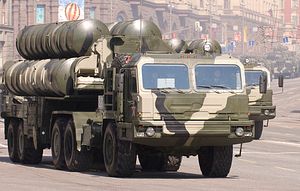 The Indian government has cleared the procurement of five regimental units of Russian-made S-400 Triumf advanced Air Defense Systems (NATO reporting name: SA-21 Growler) at an estimated price of $ 4.5 billion, Defense News reports.
The Defense Acquisition Council (DCA), a government body charged with approving Indian defense purchases and chaired by the defense minister, Manohar Parrikar, approved the order on December 17.
According to a Ministry of Defense (MOD) official, an advance team left for Moscow on December 17 to negotiate details of the largest-ever defense deal between India and Russia. The DCA approval is an "acceptance of necessity" for the team to formally negotiate the government-to-government deal.
A contract could be signed during Indian Prime Minister Narendra Modi's visit to Moscow on December 24-25. According to Defense News, however, the MOD source characterized the Russian reaction to India's desire to purchase the new weapon system as "lukewarm."
One of the reason for Russia's hesitancy is that a collaboration contract for joint work and delivery of 154 Perspective Multirole Fighters (PMF), the derivative Indian version of the PAK FA T-50 fifth generation fighter jet, has still not yet been signed between the two countries (See: "Will India Purchase 154 Fighter Jets From Russia?").
If the S-400 deal goes through, India would become the second buyer of the advanced missile defense system after China, which will purchase four to six units, with the first S-400 system set to be delivered within the next 12 to 18 months.
As my colleague, Ankit Panda, noted recently, the "S-400 is presumably also capable of intercepting most medium- and short-range ballistic missiles and cruise missiles. The system can engage up to 36 targets simultaneously within a range of 400 km."
It is unclear, however, whether the S-400 batteries will be equipped with the 40N6 or 48N6 missile series. The 40N6 missile allegedly has an operational range of 400 kilometers (248.5 miles), although it is unclear whether the weapon is operational in Russia yet. The range of the 48N6 missile is more limited at 250 kilometers (155 miles). The S-400 can purportedly fire three types of missiles at a rate 2.5 times faster than its predecessor the S-300.
The delivery schedule for India's S-400 batteries is unclear. According to a MOD source interviewed by The Times of India, "[I]t will take a few years for the S-400 systems to be actually inducted. The plan is to deploy three in the west (read Pakistan) and two in the east (read China) to seriously bolster the nation's air defense capability."