Interview: Remembering the Disappearance of Sombath Somphone
The Diplomat talks with Ng Shui Meng, the wife of disappeared Lao activist Sombath Somphone.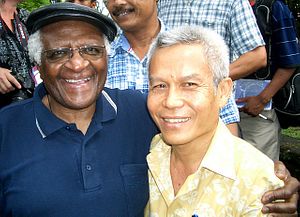 Today marks the third year anniversary of the enforced disappearance of Sombath Somphone, an internationally-renowned civil society leader in Laos.
Despite the availability of CCTV footage showing Sombath's abduction in the early evening of December 15, 2012 at a police checkpoint in Vientiane, no progress has been made in locating him and returning him to his family. Rights groups say the fact that the police officers who witnessed the abduction failed to intervene suggests some level of complicity by Lao authorities.
Ng Shui Meng, Sombath's wife, continues to campaign for his release. Ahead of the third anniversary and Laos prepares to officially take over as chair of ASEAN in 2016, she spoke with John Quinley III. An edited version of that interview follows.
Can you tell us your personal feelings on the third anniversary of the disappearance of your husband Sombath? 
His enforced disappearance took place three years ago. I am still confused why someone like Sombath who has worked for 30 years openly in Laos in a very non-confrontational manner would experience enforced disappearance at that time of his life.
Beyond the government of Laos, what role do you think ASEAN's role is in moving forward the investigation of Sombath's enforced disappearance?
ASEAN as a whole did nothing. When Sombath disappeared, none of the ASEAN countries made any statement. I tried to meet with different human rights representatives from each country and urge them to take up the issue. Singapore did try and get some answers. The human rights representative from Laos basically said – from what I heard – that the issue should not be raised because of the non-interference principle of ASEAN. My embassy did try to help me. Singapore asked the Lao government to try and resolve the case quickly because it had affected me personally.
The other ASEAN countries officially have done nothing. I have tried to appeal to them to use the ASEAN Human Rights Charter. I have been told that the human rights representatives' role in ASEAN is to raise awareness and its protective role is very weak.
Laos is chairing ASEAN in 2016. What are your suggestions for the country in terms of democracy and human rights as it takes up this role?
Laos will take the Chair of ASEAN in 2016. Taking that role, Laos should host the ASEAN Peoples Forum (APF). I think the Lao civil society organizations have already met the organizing committee APF and have indicated that it will not be held in Laos. The reasons given were that they didn't have the capacity to do so and that they could not guarantee the safety from extremists, whatever that means.
It is not regular for the chair of ASEAN to not host the APF. Everyone else has done it including Myanmar. It will be a break from the usual role of the chair of ASEAN. No one can tell the Lao government what to do or what not to do.
Angkhana Neelaphaijit, a friend of yours and the wife of disappeared Thai human rights lawyer Somchai Neelaphaijit, said at a press conference today in Bangkok on your husband's disappearance that "the burden of the investigation should not fall on the family." How can people and organizations in Southeast Asia help families of those who have experienced enforced disappearance?
There are different ways the community can help. There needs to be more written about enforced disappearance in Asia. Asia now has the highest number of people who have been disappeared, mostly by state actors.
You hardly see the issue of enforced disappearance in the press. Other kinds of human rights violations get more attention. Enforced disappearance is much more devastating to the families left behind and to the victims because no one knows what is happening to them. Many victims of enforced disappearance are subject to torture which is not known.
The issue needs much more attention because of the seriousness of the violation and also the devastation it causes to the family. The majority is women and they have to raise the family while the bread winner has been taken away. Especially in the case of Sombath and other similar cases, it is very easy for the issue to leave the public's mind.
I cannot tell you how grateful I am to people like Angkhana, who herself is a victim of enforced disappearance but now has started her own organization to help other families of enforced disappearance and other kinds of human rights violations.
Many articles say your husband was a human rights activist. How would you describe him?
I have always said that in the case of Laos, the term "human rights defenders" is not well understood. There are no human rights organizations in Laos.
He would probably describe himself as a rural community developer. If activism can be used to describe Sombath, I would describe him as a peace-activist.
He really is someone who truly believes in non-violence, truly believes in building bridges between people of different views: to try and work in consultative and consensual ways to settle differences. In our discussions, he always felt that Laos in its post-war nation building already went through so much suffering and war. That all the differences should be put aside and that the people should work to put the country back together.
We share the same space and the same country so we should put aside our differences and help build a country that is good for our children. He would be much more comfortable being described as a peace-activist if any form of activism can be used for his work.
As his story has been told over the past few years, is there anything about Sombath that in your view hasn't been adequately represented or is overlooked?
As I indicated earlier, has been some erroneous depiction of Sombath that he was a human rights activist. People speculated that he could have disappeared because of his opposition to dams or that he was rallying groups inside Laos to protest against the land concessions, which I think is wrong. Sombath knows what the limitations are inside the country. He knows it will be unproductive to protest but he is very sympathetic to communities that are affected by mega development projects.
Any final thoughts you would like to leave us with as we mark the anniversary?
I have become so tired of hearing the same thing from the police. Why should the family not get contacted regularly on the progress of the investigation? Why should the family have to keep asking for answers and why does the family need to get support outside the [government] system? I think that is the most unjust thing.
John Quinley III is a Bangkok-based researcher focused on human rights, refugees, migrants, and development in Southeast Asia, particularly Myanmar and Thailand.