ISIS Releases Chinese-Language Propaganda Video
The song urges Muslims to "wake up" after a century of humiliation.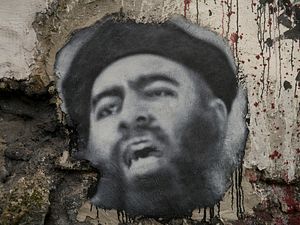 ISIS has released a new piece of propaganda specifically aimed at Chinese. The nasheed (an a cappella song extolling Islam) is in Mandarin Chinese, and urges Muslims to "wake up" and take up weapons to "rebel" in accordance with Allah's commands. You can listen to the full song on the website Jihadology.
The video comes on the heels of the first confirmed Chinese casualty at the hands of ISIS – hostage Fan Jinghui, who was executed by the group.
It's unusual for ISIS to produce recruiting materials in Mandarin Chinese, but this isn't the first time it has mentioned China. China was one of 60 countries identified as part of a "coalition of devils" in a recent ISIS propaganda video – although the United States remains the most obvious target and focus of the video. Chinese territory in Xinjiang was also included on a map of ISIS's territorial ambitions. In 2014, ISIS leader Abu Bakr Al-Baghdadi mentioned China first in a list of states where "Muslim rights are forcibly seized," a fact quickly picked up on by Hong Kong-based Phoenix Weekly.
Chinese officials have also expressed concern about the dangers ISIS poses to China. In July 2014, China's special envoy to the Middle East, Wu Sike, said that China was concerned about extremists fighting for ISIS, then returning to China to carry out an attack. "After being immersed in extremist ideas, when they return home they will pose a severe challenge and security risk to those countries," he said. Wu estimated the number of Chinese fighters with ISIS to be around 100; the Global Times put the figure at 300.
Still, China is far from ISIS's only – or even main – target. Taiwan's UDN reported that the video was also released in English, Russian, French, and Turkish.
Yet there are parts of the nasheed that seem to speak specifically to a Chinese audience. The song references Muslims having been "enslaved for a century," with "shameful memories" of that period. That speaks to China's rhetoric of a "century of humiliation" visited on China by foreign powers – with an ironic twist that implies China was part of the oppressors. The video also urges Muslims to help regain Islam's lost historic glory, which has hints of Xi Jinping's "China Dream," a drive by Chinese people to "rejuvenate" their historically great nation.
China's narrative of historical glory, humiliation, and the struggle to return to glory has been co-opted by ISIS in this video – only in this case the struggle is unabashedly violent. "Dying on this battlefield is our dream," the song says, urging listeners to pick up weapons and fight in accordance with holy commandments.
It's difficult to say if ISIS's Mandarin-language video will have any impact in China. China blocks Twitter and Telegram, the two social media tools used to distribute the video, according to SITE Intelligence Group. However, the fact that ISIS is intentionally reaching out to a Chinese audience is a worrying indicator of the group's ambitions.