Revenge of the Taliban: The Story of the Afghan Soldier Mumtaz
How the ongoing war in Afghanistan wrecked a soldier's family.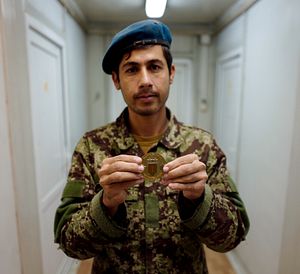 *The Diplomat's Franz-Stefan Gady is currently in Afghanistan reporting on the ongoing war against militants in the country. 
Jalalabad, Afghanistan
The barracks at the Afghan National Army (ANA) base in Jalalabad, the capital city of Nangarhar province in eastern Afghanistan, are half deserted. In the early morning hours only a handful of soldiers can be seen walking down the base's main road, which is flanked by green trees and decrepit U.S. B-Huts made of plywood – the military installation used to be American before it was handed over to the Afghans in 2012.
The soldiers of the base, members of the 4th Brigade of the 201st "Selab" Corps of the ANA, have been deployed in fighting Taliban and Islamic State militants in the districts of Achin, Dehbala, and Kot in the south of the province for the past two months. One soldier of the 4th Brigade, 25-year old Mumtaz Momand, however, is not one of them. He has been confined to the base for the past eight months.
The reason? The Taliban killed two of his brothers, and, now, with his monthly army salary of 14,000 Afghani (around $210) Mumtaz is the sole breadwinner for a family of 25. "My superior told the Kandak (battalion) commander that I should not be put into the frontline for if I die my family will have no one to take care of them and will starve."
Mumtaz's story is indicative of the dangers the people of Afghanistan face when trying to make a living in the war-torn country as law-abiding citizens. With the Afghan government either incapable or unwilling to protect them, sooner or later they must face a confrontation with the Taliban.
Mumtaz used to work as a cleaner at a U.S. military installation in Nangarhar. He was a diligent worker and often received praise from his American superiors for his reliability and effort. They encouraged him to join the ANA.
"I was eager to serve my country and it did not take long to convince me. It was my plan all along," he told The Diplomat.  He enlisted in 2008 at the age of 18 and received training in logistics from American advisors. As in his previous job, he excelled in it and received praise from his higher-ups.
Mumtaz proudly shows off the numerous awards and citations that he has received over the years, all neatly kept in a yellow folder. His most precious possession is a metal coin he received from one of his U.S. trainers after completing his specialist training as a logistics operator.
The Afghan soldier served along with other young men from his home – Mormandara district in southeastern Nangarhar – and as the years went on and they returned home on leave, they would proudly tell people in their villages that Mumtaz is a good soldier and a favorite of his Afghan and American superiors.
The Taliban, which have a heavy presence in the district, soon learned of the young ANA soldier. They were already suspicious of his family: An older brother had joined the Afghan Border Police in Torkham, the busiest border crossing between Afghanistan and Pakistan and a gateway to the Khyber Pass.
At first they confronted him only verbally when he was on leave in his village. "I told them that I support the government and that all Afghans should do so. They threatened me that if I didn't change my ways and abandon the foreigners, there would be consequences. I brushed them off, however."
Mumtaz married and his wife moved with him to Jalalabad. They started a family and soon had four children, three boys and one girl. Things were beginning to look better. Then, a year and a half ago, his older brother was assassinated by the Taliban in Torkham – killed in an ambush. Mumtaz went home for the funeral. He received further threats. Again, he defied them.
Eight months ago, he went back to his village to celebrate a holiday with his family. He was walking down the street with his other brother when five Taliban men abruptly confronted them. He recognized three out of the five: Namat, Zahir Shah, and Ahmad Shah – he had argued with them many times before in the bazaar. This time, however, there would be no talk.
They pulled out guns and began shooting. His brother went down, hit multiple times, and died instantly. Mumtaz hid behind a low concrete wall. He already had received a wound on his left hand and was bleeding. The men emptied their magazine on the wall and then quickly took off. The whole incident was over in less than a minute.
As a law abiding citizen Mumtaz went to the local police station and told the police that he knew the assassins – all people living in or around his village. Namat, Zahir Shah, and Ahmad Shah were arrested. Nonetheless, after ten days all charges were dropped, and they were released.
"The judge was either too afraid to condemn them or he was in the Taliban's pocket all along," Mumtaz angrily noted teary-eyed. "Ten days for killing my brother! Where is the justice there?" Still unafraid he confronted the judge, recording the conversation on a cell phone.
"They killed my brother and they are set free?" he asked. "There is no evidence that Namat, Zahir Shah, or Ahmad Shah killed him," the judge replied. Mumtaz told the judge that there were other witnesses, and that he saw the assassins with his own eyes. The judge did not rescind his decision. "Are you working for the Taliban or the government?" Mumtaz screamed. The judge's voice also got louder. "Be careful, if you don't stop I will record this conversation and indict you!" In his rage Mumtaz replied: "I am already recording all of this," pulling his cellphone out of his pocket. The judge abruptly stopped the conversation and threw him out.
Since then, Mumtaz has not been back in his district. With the Taliban slowly encroaching, even Jalalabad is no longer safe for Mumtaz. He can only leave the base once a month to quickly sneak home to see his wife and four children.
The rest of his family also moved to the provincial capital: the six children of his brother slain in Torkham, eight children from his brother killed in their home village, the two widows of his brothers, along with his only surviving brother, his two sisters, and his mother.
While at the base in Jalalabad, Mumtaz either stands guard on one of the towers or he attends to the occasional visitors at the almost always-empty guesthouse on base, serving them tea. Separated from his extended family, it is an isolated existence.
While talking to The Diplomat, Mumtaz pulls out a faded photograph. It shows Mumtaz and his brothers during happier times a few years ago. It is the only picture he has of all of them together. They look proud and determined. One of the brothers killed by the Taliban shows off his new cell phone. Mumtaz wears a new leather jacket. His black hair is neatly trimmed. He stands in the middle, in front of his brothers, a fraternity of optimistic strength.
With his two older brothers assassinated, the Taliban deem him the head of the family. However, given the deteriorating security situation in Jalalabad and his inability to leave the base, the Taliban have made sure that Mumtaz can only fulfill his new role in absentia – effectively giving him a choice of death of solitary confinement.
Shaheedullah Sangin contributed to this report.