Russian Jet Fighters in Asia: Why Politics Still Matters
Moscow faces competition in attempting to sell its most modern jet in Asia. Its best selling point is still politics.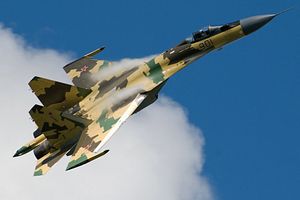 Russia is known for exporting combat aircraft throughout the world. From the beginning of the Cold War onward, Soviet and Russian MiGs, Sukhois and Yaks have formed the backbone of many air forces throughout the world. This was partly due to old Cold War politics, where states were basically obliged to acquire military equipment from whichever bloc they were aligned with.
Russia has inherited much of its old military R&D and production capabilities with regards to military aircraft. Soviet and Russian planes are still in high demand throughout the world. This is primarily due to three thing; costs, quality and the lack of arms sanctions often imposed by western states on unsavory states.
This is also true in Asia. As The Diplomat has covered recently, several Asian states are looking to update or replace their fighter fleets. Sweden's Saab Gripen, France's Dassualt Rafale, the Eurofighter Typhoon and Boeing's F/A-18 Super Hornet are all models that are being offered.
One of Russia's main contenders in this game is the Sukhoi Su-35 (Flanker-E, also known as the "Super Flanker"). Based on the venerable and widely exported Su-27, the Su-35 has been touted as a "fourth generation plus" for the many advanced technologies installed in the aircraft. According to Militaryfactory.com, the Su-35 integrates an in-flight refueling probe, provision for electronic countermeasures and a forward and rear- facing Phazotron AESA radar capable of simultaneously tracking 24 different targets at a hundred kilometers' distance over uneven terrain. Avionics include an Irbis-E passive phased array radar system.
The Su-35 is powered by twin powerful Saturn AL- 41 (117) turbofans. These engines have thrust vectoring, allowing the aircraft to climb at a greater rate than its predecessor, the Su-27, and serves as a testbed for Russia's fifth generation fighter, the SU PAK-FA. The aircraft can reportedly reach speeds of Mach 2.25, roughly 2,400 kilometers per hour on internal fuel tanks.
Moscow is planning to operate an air regiment totaling 48 Su-35s. It is primarily intended as a stepping-stone between its current fourth generation fighters and the PAK-FA. However, Russia has also been marketing the Su-35 for export to a number of Asian states; China and Indonesia have both agreed to purchase the aircraft, and several others, including Pakistan and North Korea, are rumored to have an interest in the model.
The most significant confirmed buyer of the Su-35 is Beijing. As Franz-Stefan Gady reported for The Diplomat, China is set to purchase a total of 24 aircraft, at a price of between $83 and 85 million per model. It is suspected that the People's Liberation Army Air Force's (PLAAF) main motivation behind this purchase is more likely to be access to the Su-35's technology for its own indigenous fighter.
Especially relevant is the Su-35's engines. As I wrote last week, the PLAAF needs to acquire more powerful engines for its fifth generation aircraft, the J-20 and J-31. While China is currently developing its own fifth generation turbofan, the WS-15, the Su-35's AL-41s will be a good interim solution. Considering that Beijing is subject to western sanctions following the Tiananmen Square massacre in 1989, and the fact that China already has an advanced indigenous military research and development capacity, makes Russia the only realistic, legal source of military technology.
Indonesia has also announced that it will purchase 16 Super Flankers to replace its aging U.S. F-5 "Tigers". There were many competitors aiming to win Jakarta's aircraft bid, notably the other aircraft listed at the beginning of this article. The reason Sukhoi won the bid is probably due to a combination of factors. Under Indonesian law new defense acquisitions must include a minimum 30 percent direct offset, while the selection criteria have been weighted 30 percent for aircraft/system performance, 30 percent acquisition/life-cycle costs, and 40 percent for industrial cooperation.
Furthermore, Jakarta has a mixed historical record of relying on western kit. In 1986s, Indonesia purchased a batch of F-16s, intended to supplement its fleet of F-5E Tigers. However, after the U.S. and EU imposed sanctions following Jakarta's involvement in the 1999 East Timor independence, these quickly dilapidated due to a lack of spare parts. As a result, the Indonesian Air Force acquired Russian jets, notably Su-27s and Su-30s. One motive for the acquiring the Su-35 might be to prevent that kind of unpleasant situation in the future.
Pyongyang has apparently expressed interest in the Su-35. According to the JoongAng Ilbo, a North Korean military delegation approached Russian officials in November 2014 about the possibility of acquiring the aircraft for its dilapidated air force. However, due to the international arms embargo on Pyongyang, Moscow has apparently declined the request.
Pakistan is another potential candidate for the Super Flanker. According to Dave Majumbar over at the National Interest, Russia is apparently negotiating to sell Pakistan the Su-35 along with Mi-35 Hind-E attack helicopters. Perhaps more amazingly, the Russians don't seem to understand that their Indian partner is likely to react extremely negatively at the prospect of such a deal. Acquisition of the Su-35 would probably give Pakistan a marginal edge in terms of capability over India's two-seat Su-30MKI if it is bought in numbers, but will probably increase New Delhi's turn to advanced western and indigenously produced combat aircraft.
All in all, the Super Flanker is in demand in some Asian states. However, most of the states looking to buy the Su-35 are doing so due to political reasons; either because they are unable to buy western kit, or because they are worried about future sanctions. As with all the fighters I've covered over the last couple of weeks, this does not mean that the Su-35 is an inferior platform at all (Peter Wood actually calls it the best non-stealth aircraft in the world.)
It means that the competition is tough, and that politics do still play a part of states' arms acquisitions. Russia's arms exports to the region have been decreasing steadily as its big traditional customers have developed their own defense industries or diversified their suppliers.