China to Receive 10 Su-35 Advanced Fighter Jets in 2017
Ten aircraft will be delivered this year, followed by another ten in 2018.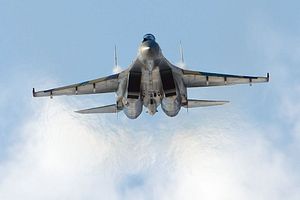 The People's Liberation Army Air Force (PLAAF) is slated to receive its second batch of ten Sukhoi Su-35 multirole fighter jets this year, according to a source within the Russian government's Federal Service for Military-Technical Cooperation.
"The first four vehicles were supplied in late last year and the second batch of 10 jets will be delivered to the customer this year," the source told TASS News Agency on February 2. As I reported in December (See: "Christmas Day Gift: China Received 4 Su-35 Fighter Jets From Russia"), the first four Su-35 fighter jets arrived on December 25 at a flight training center of the PLAAF in Cangzhou in Hebei province in northern China.
The purchasing price per aircraft is estimated at $83-85 million. The total contract worth is around $2 billion and also includes ground equipment, spare parts, and other Russian logistical support. I explained in December 2016:
The Su-35 (NATO reporting name: Flanker-E) is a fourth++ generation, twin-engine, multirole fighter aircraft powered by two AL-117S turbofan engines. As I reported elsewhere, China first expressed interest in the Su-35 in 2008 with official negotiations beginning in 2011. A preliminary agreement was reached in 2012 with a sales contract for 24 aircraft reportedly signed in November 2015 (See: "China to Receive 4 Su-35 Fighter Jets From Russia in 2016")
Furthermore, I noted that China will likely try to reverse engineer the Su-35's powerful jet engine:
One of the reasons for China's interest in the Su-35 is its AL-117S turbofan engine. Russia has repeatedly refused to sell the engine as a stand-alone product, which left the PLAAF with little choice but to acquire the entire aircraft. The Chinese military aviation industry is still struggling with designing and building an engine for its new fifth-generation stealth fighter prototype, the Chengdu J-20.
The J-20 reportedly is fitted with the Saturn AL-31, an older Russian-made jet engine. Another fifth generation fighter jet, the Shenyang J-31, is equipped with the Klimov RD-93. China is currently working on its own jet engine, the WS-13 Taishan turbofan, a derivative of the Russian Klimov RD-33 turbofan. Both the J-31 and J-20 are purportedly incapable of super cruising — sustained supersonic flight.
The most advanced Chinese-made turbofan currently in use is the WS-10. However, the engine is also underperforming and there have been consistent reliability issues mandating frequent repairs, according to Chinese military sources. More than 250 WS-10 engines have been produced so far. A number of Chengdu J-10 lightweight multirole fighter aircraft and Shenyang J-11 twin-engine jet fighters, both fourth-generation combat aircraft, have allegedly been equipped with an improved variant of the WS-10.