The Port of Bagamoyo: A Test for China's New Maritime Silk Road in Africa
A port project in Tanzania could become a model for connecting east Africa to China's Silk Road.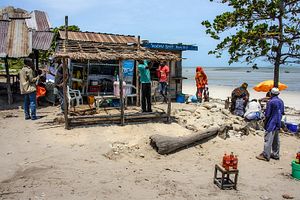 The following text reflects the discussions at the 5th BMW Foundation Global Table on the opportunities that China's New Maritime Silk Road initiative holds for East Africa. The ideas on testing the inclusiveness of the One Belt, One Road initiative build on the 4th BMW Foundation Global Table in Poland, which focused on the Silk Road Economic Belt connecting China, Central Asia, and Europe.
Following the Tanzanian general election of 2015, President Jakaya Kikwete will hand over power to John Magufuli after serving two terms in high office. One of the most important legacies of his presidency could turn out to be laying the foundation stone for the construction of the Bagamoyo port, which also happens to be his hometown, located 60 kilometers up the coast from Dar es Salaam. Funded by China Merchants Holdings International and Oman's State Government Reserve Fund, the project presents an opportunity to test the potential of China's 21st Century Maritime Silk Road as game changer for Africa's development. Will the New Silk Road succeed in aligning the "Chinese Dream" with an African one? The answer will largely depend on China's ability to create a truly inclusive process, allowing all participating states, together with landlocked and geographically disadvantaged corridor countries, to bring in their respective interests. Africa and Europe should give China the benefit of the doubt and become active co-drivers of the process.
At a time when China combines the world's second largest economic power with growing military capability, the One Belt One Road (OBOR) initiative is being portrayed by the Chinese leadership as an illustration affirming the country's peaceful rise and its readiness to shoulder greater regional and global responsibility.
The New Maritime Silk Road reflects a strategic vision of a zone of economic development that maps along the key ports and maritime trade routes of the South China Sea and the Indian Ocean. Africa is a strategic center point in this framework. Projects to be undertaken under the "Belt and Road" framework in Africa are located in Bizerte, Tunisia; Dakar, Senegal; Dar es Salaam, Tanzania; Djibouti, Djibouti; Libreville, Gabon; Maputo, Mozambique; and Tema, Ghana.
The Tanzania Port Authority recently announced its approval for a $10 billion project to develop a port at Bagamoyo, financed by China and Oman. Located about 60 kilometers north of Dar es Salaam, Bagamoyo is expected to become the biggest port in Africa once completed, handling 20 times more cargo than Dar es Salaam port. The project will link Bagamoyo port to the central corridor railway and the TAZARA Railway through an extended link. A parallel highway linking Bagamoyo to the Uhuru Highway going to Zambia will also be built. An integral part of the Bagamoyo project will be an Export Development Zone (EDZ) which will include the construction of an industrial city as well as upgrades to road and railway infrastructure.  Bagamoyo will be a strategic pillar and connect the MSR with other East African countries, including Mozambique, Malawi, Zambia, the Democratic Republic of Congo, Burundi, Rwanda, Uganda, Kenya, South Sudan, Comoros, Madagascar, and Seychelles.
The Bagamoyo port provides opportunities to shape the approach taken to developing the other nodes in the Maritime Silk Road and for China to work with its development partners in Africa and Europe.
First, given Bagamoyo's historical link to Germany, and Europe's knowledge of and past experiences with African nations, China should also be open to policy coordination and development cooperation with the European Union and other relevant stakeholders, which could also potentially eradicate the increasing neocolonial speculation in the West over China's "exploitative engagement" in Africa. The question remains also whether China's ongoing and extensive crackdown on government corruption proposed by President Xi Jinping could be finally aligned with the EU's longstanding efforts to overcome widespread corruption and poor governance in Africa.
Brian Eyler's 2014 report on the partnership that China and Thailand have established to "construct investment vehicles for the development of 12 strategic ports" – including seven African ports (in Djibouti, Tanzania, Mozambique, Gabon, Ghana, Senegal, and Tunisia) offers a possible cooperation framework for other nations to be involved in both MSR and the Silk Road Economic Belt (SREB). During President Xi Jinping's visit to Africa in 2013, he proposed the four principles of "sincerity, real results, affinity and good faith" as a blueprint for bilateral relations. Premier Li Keqiang, highlighting the unity of the "Chinese Dream" and the "African Dream," said that the MSR was the best testing ground for China's promise and commitment to Africa. In order for the MSR to be as inclusive as it claims to be and for it to produce win-win results, China will need to be open-minded, innovative, more flexible, and prepared to move beyond its foreign-policy comfort zone.
Second, Bagamoyo and other construction sites on the MSR in Africa and Asia are located in natural habitats. In the case of Bagamoyo, the future port is surrounded with endangered mangrove swamps, local fishing activities, and smallholder agriculture. These activities are highly sensitive to weather and the elements. It is important to ensure that sustainability principles are followed during the design, construction, and operation phases of the projects. The agreement on the Sustainable Development Goals (SDGs) at the United Nations General Assembly in September 2015 is a great opportunity to ensure that the planned port and industrial city follow the best possible sustainability principles.
Third, Bagamoyo is a historic city with important landmarks for tourism, located close to Dar es Salaam and Zanzibar. It was founded at end of the 18th century and was the original capital of German East Africa. It used to be one of the most important trading posts along the East African coast. Despite such important landmarks and cultural activities, Bagamoyo is a poor area, depending on smallholder farming, small traders, tidal fishing, and jobs in government administration. The town has an adequate water supply, but a shortage of sewerage and electricity. A town of some 30,000 people, the city is expected to grow tremendously with this new port and industrial park investment. It is important to preserve the history and architectural landmarks, which are of importance to tourism and the livelihood of many local residents. Coordination with the Department of Antiquities in Tanzania is critical at all stages of the design, construction, and operation of the port and industrial city. This would be a great opportunity for Bagamoyo to engage in green design and construct a truly sustainable city that preserves the past, protects the activities and livelihood of the present inhabitants, and prepares for a brighter future. This includes energy, water use, construction techniques, materials used, traffic management and urban planning, to name just a few areas.
Fourth, Bagamoyo is a microcosm of Tanzania's modern path to development, as its residents are more diverse than in other parts of the country. The city accumulated such diversity over the years due to its role in trade, fine sailing culture, sufficient water supply, fertile hinterland, and closeness to the rice-producing region along the Ruvu River. Maintaining a peaceful multicultural society despite a tremendous growth in population due to in-migration to serve the Export Development Zone, the port, and the growing city is paramount. As modern cities in Tanzania are becoming as diverse as Bagamoyo as a result of the in-migration of different ethnic groups in search of jobs, efforts undertaken to ensure a harmonious society in Bagamoyo could be scalable across Tanzania.
Finally, Bagamoyo will go from a sleepy "dottoir" for Dar es Salaam to a major port with a Pan-African and global role along the Maritime Silk Road. Planning and managing such a city is light-years away from the manner in which the city is currently planned and managed. Attention will have to be paid to building the capabilities and competences as well as the systems and processes for the city to be able to play this important role. Time is of essence as port construction is supposed to be completed by 2017.
Nevertheless, careful coordination will be needed to reduce misunderstandings and internal rivalry in Africa. Creating the necessary degree of transparency and trust will be also essential for long-term engagement with China in the framework of the Maritime Silk Road. Therefore, to ensure effective coordination, it would be important to establish a multi-national coordinating body including stakeholders from all participating countries. This coordinating body would have the task of overseeing cross-border projects on the basis of a level playing field, taking the legitimate interests of all stakeholders on board.
Negotiating with one voice would also improve the bargaining position of African states vis-à-vis China. This is of particular importance when it comes to standard-setting or defining the conditions for extractive activities of foreign mining companies as well as also for large-scale construction projects. Coordination among each other and securing transparency regarding the various national interests will also allow African leaders to identify areas of convergence, strengthen regional integration, and adopt a multi-vector diplomacy approach. This will provide African countries with the necessary political leverage to negotiate with Europe and China as well as other powers.
Furthermore, African leaders should also explore the potential of existing exchange formats and institutions such as the Forum on China-Africa Cooperation (FOCAC), which will hold its 6th Ministerial Conference on December 4-5 in Johannesburg. With the theme for the upcoming summit being "Africa-China Progressing Together: Win-Win Cooperation for Common Development," it only makes sense for all African states including the transit countries to sit down and discuss beforehand their strategy and lay out their expectations toward the partnership with China.
Last but not least, a successful approach to the Maritime Silk Road would allow Africa to achieve the optimistic vision in the "Africa Rising" narrative through its key port cities and their interconnected road, rail, and power links. Then Bagamoyo would eventually resemble the town described in the Old Swahili caravan song:
Be happy, my soul, let go all worries
Soon the place of your yearnings is reached
The town of palms – Bagamoyo
Frannie A. Léautier is Chairperson and Co-Founding Partner of Mkoba Private Equity. Michael Schaefer, a former German ambassador to China, is the Chairman of the Board of the BMW Foundation. Wei Shen is Director of the Lancaster University Confucius Institute and Professor of International Business at Lancaster University Management School.